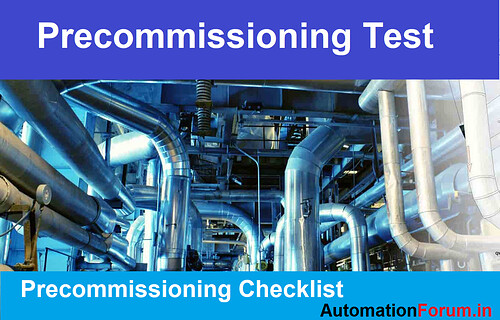 What is Pre-commissioning?
Pre-commissioning (PC) is a construction procedure that includes checking the functional operability of elements within the system in order to ensure the system is ready for commissioning start-up.
Pre-commissioning activities include checking and ensuring the installed equipment is ready to operate, Some of the activities are listed below, but not limited to:
Installation of Seals and Packing

Removal of temporary bracing

Rotating machinery testing for correct rotation direction and freedom of moving parts before connecting driver

Checking and consistency of all lubricants, filling etc. before running the equipment

Installing all safety devices on the equipment

Protecting equipment before commissioning from normal weather conditions or damage
General Pre-commissioning procedure for basic systems:
For piping system:
Before testing and flushing, orientation plates, control valves and any other online instruments should not be installed.

Piping device to the satisfaction of the client must be properly flushed and washed

The plans or requirements allow all piping to be tested hydrostatically and pneumatically.

Vents are supplied at high loop points and after testing is plugged.
Instrumentation System:
Functional Check of all instrument and controllers

Test the location of all valves according to the drawings

Checking all electrical signals and alarm cables for continuity, correct power source and polarity.

Until commissioning, test all Shutdown Systems
Electrical system:
Continuity checking and insulation resistance testing for circuits of power and control.

Earth continuity test for all circuits

Verification of phase sequence

Checking of Safety features for correctness of operation etc.

Checking of all PLC wired interface contacts in panel and terminal equipment chambers as necessary.

A thorough visual inspection of electrical equipment in hazardous areas shall be carried out to ensure the equipment is appropriate for the designated zone and gas community and properly installed, with all covers, bolts, nuts and hardware intact and no physical damage mark on the enclosure is observed.
Download Pre-Commissioning Checklist:
General checklist:
Click here: pre commissioning checklist.docx (32.1 KB)
Pre-commissioning checklist for Pumps:
Click here: PRE Commissioning checklist pump.docx (31.0 KB)
Pre-Commissioning Checklist for HVAC system:
Click here: Pre-Commissioning CHECKLIST for HVAC.docx (31.1 KB)