Gate valves are used for quick opening and shut off. These are the most common types of valve used in process industry suitable to use in large size flow channels.
Maintenance of Gate valves:
To keep the valve can be used for a long period of time it is necessary to maintain it. To achieve that each valve should be operated on suitable temperature condition it allow, so that the valve can function properly, valves must be adjusted to the temperature. Temperature range for materials:
Brass: Valves with this type of material must not be used for temperatures above 450ºF, if used at temperatures exceeding those mentioned above, the valve will be damaged.
Iron: Valves with this type of material must also not be used for temperatures greater than 450ºF.
Stainless steel (white iron): Valve with this type of material is used for low temperatures and corrosive flow valve should not be used in high temperatures.
Stell steel: This type of valve is used for high temperatures and high pressure (has advantages compared to other types of materials in terms of temperature use).
Troubleshooting Gate valve problems: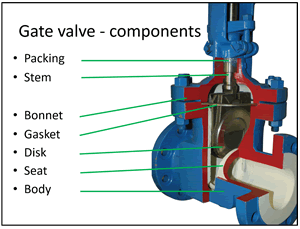 Valve leak:
If the valve does not work properly, there is a high chance of a leak. The most frequent part of the leak is in packing gland. This can be overcome by tightening the Gland Nut.
After that, check the handwell round again, because after tightening the gland nut there will be friction between the packing and the stem which causes the handwell to be difficult to move. Leaks are also common in areas of body and bonnet connections, body areas, and around flanges.
Physical Damage:
Valve that does not work properly is also likely due to physical damage to the valve itself, therefore physical examination is very important to be carried out first before further treatment.
Lubrication:
Giving lubricants periodically to the valve, especially to the stem, is very important to maintain valve resistance.
How to disassemble the Gate valve?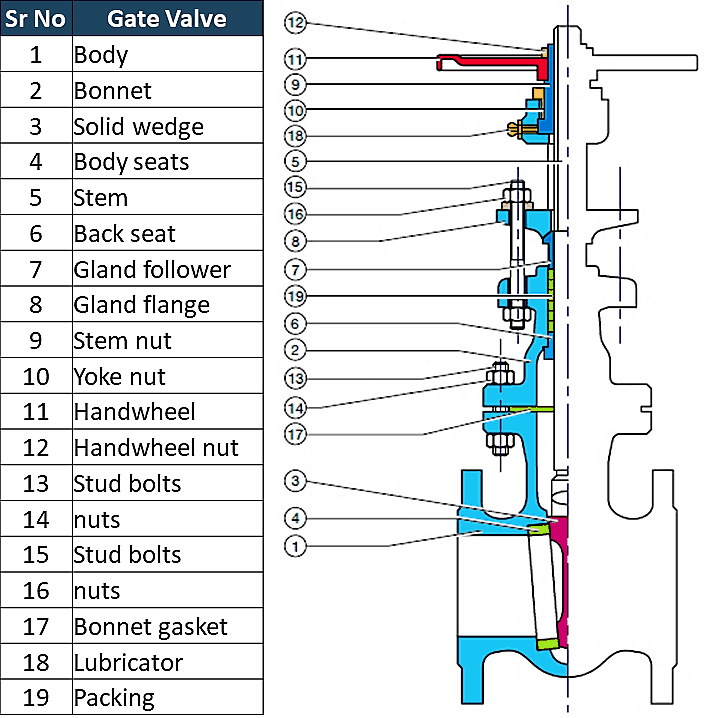 Remove Stud Bold binder with Bonnet / Yoke

Separate the body with Bonnet / Yoke

Remove the packing gland binder nut

Remove the stem from the bonnet, push by twisting the Hand Wheel until it breaks off the nut stem until it comes out

Release Gland, Gland Ring and Packing from Bonnet

Separate the stem with Disc / Wedge

Clear Part - part that has been released.
Lapping and Built up Process:
Minor damage such as scratches can be repaired by polishing using fine abrasive material which is called lapping, then the seat and valve are twisted until they are in full contact. Every seat and disc from a relief valve or block valve, in general, a lapping process must be carried out.
The process of build up or also called the process of adding meat is a process that is done by adding material to the seat and disc which is the main part of the gate valve component. This process can be done in two ways, namely by the welding process and by the spray gun process (material shooter).
Reinstallation Process:
Insert the shaft on the shell housing then attach the valve to the shaft by locking on the shaft by locking on the thread contained in the shaft and valve,

Insert the valve with the valve housing cover where the input method is adjusted to the device inside the valve housing and the cover is installed on the valve housing cover,

On the installation of the shaft is already concerned so that when during the opening of the fixed shaft that moves is a valve contained in the valve housing,

Install the gland flange on the shaft to determine the position of the shaft so that it remains with locking so that the shaft is fixed where the gland flanges already have rubber gasket,

Install the second bushing on the shaft,

Install the drive wheel using a ring lock / fitting