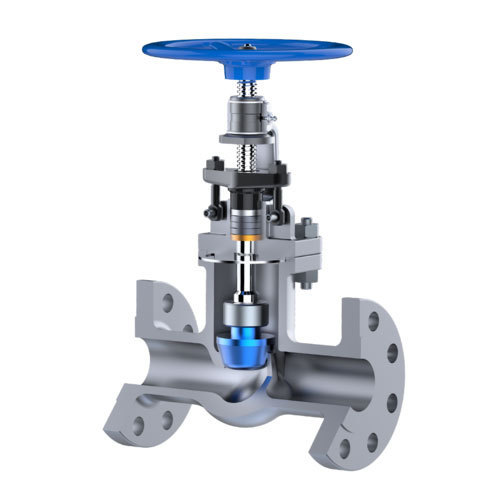 There is no doubt that preventive maintenance can improve the performance and safety of control valve function. The control valve maintenance includes inspection of all valve parts, check the condition of auxiliary pipe fittings connected to the valve and pneumatic inlet pressure check if the valve is pneumatically actuated.
Initially, it is good to conduct inspection and tests:
Closer Test:
The closer test is required for gate valve and all valves. The test is done periodically to verify the valve is working properly and check the requirement for maintenance. The closer test is done under full flow condition with one end closed, then mainly check for the leakages in valve packing and to ensure the valve will work in severe conditions.
Stroke test:
A stroke test, timed or not, is performed to verify the operability of the valve as a complete unit, including the solenoid operated valve. A stroke test, combined with external visual inspection, provides an additional guarantee that the valve system is operating within general tolerance, especially if the data has a tendency over time.
Auxiliary piping system check:
The control valves are connected with auxiliary pipelines. Thus it is important to maintain the piping system for the best working of the piping system and control valve as well.
The auxiliary pipe can be affected by corrosion and leakage, it should be maintained or replaced if needed.
Preventive maintenance inspection check list:
Visual inspection: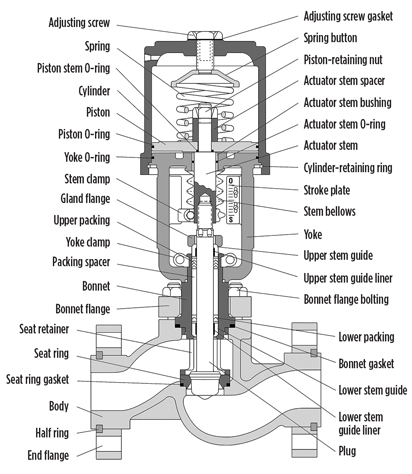 It is the primary and quick inspection, check for external leakage, corrosion etc., Inspection of the packing area, with adjustment of the packing only if necessary, is a type of visual inspection. Items that can be detected by external visual inspection are listed below:
Structural integrity
Subcomponent damage
Loose, broken, missing fasteners, especially in high vibration areas
Damaged or loose electrical connections
Air leakage from pneumatic components
Process leakage inspection (for example, soap bubble check) to include packing area, body to bonnet area, flange joints, leak off lines, and pressure boundary
Actuator shaft condition
Condition of the valve stem and stem nut connector
Pneumatic pressure readings within expected ranges
Seals and Seal seats: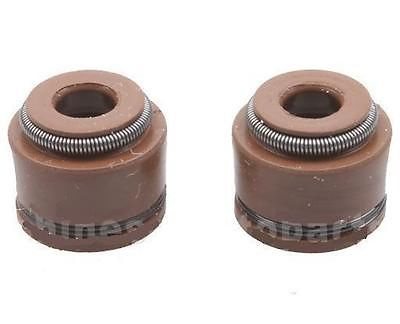 Annually: Annually check the seat leakage at high pressure, scheduled maintenance of seats are required. Check the rubber seals for cracking or other sign of deterioration and bronze seal for wear, cavitation, erosion.
Unscheduled: Check for seal retainers and bolts. Check water actuated seal are free to move and that water lines and port are clear. Check seal seats, wallplates, gate sills and adjacent concrete for wear and damage.
Valve body:
Annually: Exterior of valve should be checked for corrosion, leakage and cracks. Interior of the valve body should be checked for cavitation erosion, corrosion, scale buildup that may interface with valve movement or sealing and for other damages.
Check for lubrication to bearing and oil level of gear box.
Not schedule: Check bearings and bronze seal rings for wear or other damages and replace if necessary.
Valve Assembly:
Stem and trim condition (for example, seating) can be inferred by diagnostics to detect leakage, although an inspection is needed to assess the amount of leak by and the extent of damage to the seat. Ultrasonics is regularly used to detect wall thinning.
Check and replace:
Replace soft goods, for example, gaskets, packing, diaphragms, seals, etc
Bearing surfaces
Bolting or stud holes
Stuffing box
Valve Stem
Electrical connections
Fasteners that might be loose, especially in high vibration areas
Valve hoists:
There are different types of hoists for gate valves, threaded stem hoist, chain hoist, hydraulic hoist and wire rope hoist. Check for leakage in the hydraulic hoist, apply proper lubrication in for chain and threaded hoist. Check for corrosion.
Periodically check for vibrations and tighten every bolts and chain.
Auxiliary piping system:
Visually inspect all threaded, welded and flanged fitting check for any leaks and corrosion. Remove external and internal corrosion. There are nondestructive methods for detecting internal corrosion.