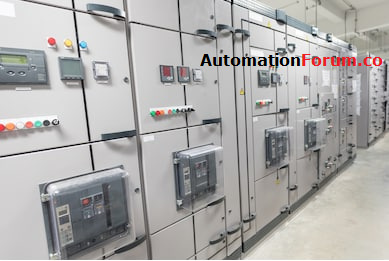 Here we discuss the installation procedure for MCC panel.
Using the crane/fork lift, MCC panels must be carefully removed from the vehicle and moved to the correct storage location. Items found inappropriate for the project shall be immediately removed from the site.
MCC panels shall be stored separately in a protected position as specified by the manufacturer for the ambient condition. Factory packing of MCC panels shall be removed only at the place of installation to prevent damage.
Installation procedure for MCC panel:
The exact location of the panel and the fixing holes to be located on the concrete plinth given for the installation by the main contractor

Remove the packing and ensure that the panel is free from transportation damages

In the case of wall-mounted panels, the exact location of the panel and the fixing holes to be identified on the basis of approved shop drawings shall be installed in an approved manner.

Provide fixing arrangement in an approved manner in the marked location.

Place the panel on the plinth, correctly align

Gland the cables on the panel's gland plate (power / earthing) and finish properly.

All the connections should be tightened

Entry around the panel to be reviewed in compliance with the regulations for future maintenance.

Ensure that the services contain water away from the panel or are adequately protected from accidental leakage.

Panel identification and outgoing breaker identification shall be contrary to approved shop drawings.

Incoming and outgoing cables are marked / identified according to the authorised drawings of the store.

All panel components such as MCCB, MCB, Relays, Fuses, Meters, CTs, Contractors, Terminals, etc. shall be tested for correct rating and size against the approved panel drawings.

The supplier of the specific switchgear must perform any internal connections / modifications.

All breakers (incoming / outgoing) must be in the "OFF" role and must be locked in order to prevent mishandling.

Check and ensure adequate space is available for maintenance.

To prevent dust and contamination, the panel must be properly cleaned and protected after installation.

A request for inspection shall be submitted for verification of QA / QC. Work inspection request shall be submitted for inspection and sign-off by the consultant.