Types of diodes
Avalanche diode
Description:
It is a diode (made from silicon or other semiconductor) that is designed to experience avalanche breakdown at a specified reverse bias voltage. The junction of an avalanche diode is designed to prevent current concentration and resulting hot spots, so that the diode is undamaged by the breakdown. Provides better surge protection than a simple Zener diode
Symbol
Symbol is same as Zener diode.
Application
Voltage reference
Protection
Radio-frequency noise generation
Microwave frequency generation
Single-photon avalanche detector
Backward diode
Description
A backward diode is essentially a form of tunnel diode where one side of the junction is less heavily doped than the other. This type of diode is sometimes also called the back diode. Although not widely used, it is a form of PN junction diode that is very similar to the tunnel diode in its operation. It finds a few specialist applications where its particular properties can be used. it provides excellent performance at microwave frequencies.
Symbol
Application
• Rectifier: The diode is suitable for rectifying signals with peak voltages between about 0.1 and 0.6 volts • Switch: In view of its speed of operation, the backward diode is sometimes used for very high speed switching applications. It can be used as a switch within an RF mixer or multiplier where it provides excellent signal performance at microwave frequencies. • Detector : The backward diode provides a linear detection characteristic for small signals. As there is no charge storage in the backward diode, it means that it can be used for signals with frequencies extending to 50 GHz and more.
BARITT diode
Description :
BARITT stands for Barrier Injection Transit Time diode. It is used in microwave signal generation, where it can easily produce a simple microwave signal with a relatively low noise level becaause BARITT diode uses thermionic emission rather than avalanche multiplication.
Symbol
Generic diode symbol
Application
Burglar alarms
Cat's whisker / Crystal diode / Point contact diode
Description
This type of diode performs in the same way as a simple PN junction diode, but the construction is much easier. They consist of a piece of n-type semiconductor ( mineral crystal) , onto which a sharp point of a specific type of metal wire (group III metal) is placed. This created a small point contact diode. Some of the metal migrates into the semiconductor and produces a PN junction. These diodes have a very low level of capacitance. They are very cheap to manufacture, but performance is not particularly repeatable. Although unreliable was sufficiently good to enable radio transmissions to be heard when used in a "crystal set."
Application
ideal for many radio frequency (RF) applications.
Constant current diodes
Description
It limits current to a maximal specified value for the device. It is known as current-limiting diode (CLD), current-regulating diode (CRD). It protects your circuit from harmful effects in the event of a short-circuit.
Symbol
Application
• Waveform generator circuits, • Timing circuits • Battery chargers. • A constant current source for led drivers • Replaces holding coils in telephone connection devices.
Gold doped diodes
Description
These have gold as the dopant to form the extrinsic semiconductor. The gold diffusion technique gives precise control of recombination canter density. It can operate at signal frequencies even if the forward voltage drop increases.
Application
It is predominantly useful in control of storage time in small-area diffused silicon computer diodes.
Gunn diode
Description
Gunn diodes also known as transferred electron devices, TED, do not have a PN junction. Instead the device uses an effect known as the Gunn effect.
Symbol
Application
Generates microwave signals anywhere from around 1 ghz up to frequencies of possibly 100 ghz.
Amplifier
IMPATT diode
Description
IMPact ionisation Avalanche Transit Time diode is an RF semiconductor device that is used for generating microwave radio frequency signals.
The IMPATT diode technology is able to generate signals typically from about 3 and 100 GHz or more. One of the main advantages of this microwave diode is the relatively high power capability (often ten watts and more) which is much higher than many other forms of microwave diode.
Symbol
Same as the generic diode
Application
Intruder alarms
Basic forms of radar
General detectors using RF technology
LASER diode
Description
Almost similar to LEDs, it produces laser (coherent) light. Although much cheaper than other forms of laser generators, these diodes are more expensive than ordinary LEDs.
Symbol
Application
CD and DVD drives
Laser light pointers for ppts.
Light emitting diodes (LED)
Description
When forward biased with current flowing through the junction, light is produced. The diodes use component semiconductors, and can produce a variety of colours
Symbol
Application
Panel indicators
Replacing traditional lighting applications
Peltier diodes
Description
They are device which are
Non-electrical - allows heat to flow only in one direction.
electrical – Semiconductors working on thermal effect or function. These are sensor used to monitor the temperature.
They can also be electrical diode used as a heat-pump or thermoelectric cooler.
Application
Used as heat engine
Sensor for thermoelectric cooling
Photodiodes
Description
When light strikes a PN junction it can create electrons and holes, causing a current to flow. As a result they generate electricity.
Symbol
Application
Light sensing photo detectors
High speed optical data transmission
PIN diodes
Description
This diode type has areas of P-type and N-type silicon, with an area of intrinsic semiconductor (i.e. no doping) between them.
Symbol
While mostly it has a generic diode symbol sometimes it is represented as
Application
Applications of PIN diode is attributed to its unique structure. • High voltage rectifier: The PIN diode can be used as a high voltage rectifier. The intrinsic region provides a greater separation between the PN and N regions, allowing higher reverse voltages to be tolerated. • RF switch: The PIN diode makes an ideal RF switch. The intrinsic layer between the P and N regions increases the distance between them. This also decreases the capacitance between them, thereby increasing he level of isolation when the diode is reverse biased. • Photodetector: As the conversion of light into current takes place within the depletion region of a photdiode, increasing the depletion region by adding the intrinsic layer improves the performance by increasing he volume in which light conversion occurs.
PN Junction
Description
The standard PN junction may be thought of as the normal or standard type of diode in use today. These diodes can come as small signal types for use in radio frequency, or other low current applications, or other types may be high current and high voltage ones that can be used for power applications.
Symbol
Application
Switching
Rectification
Clipping
Clamping
Schottky diode
Description
Also known as surface barrier diode, Schottky barrier diode, hot carrier or even hot electron diode. It is a semiconductor diode formed by the junction of a semiconductor with a metal. It has a low forward voltage drop and a very fast switching action.
Symbol
Application
Lower signals RF detector
RF mixer
Power rectifier
Power OR circuits
Solar cell applications
Clamp diode
High speed switching applications
Shockley diode
Description
The Shockley diode is a four-layer "pnpn" semiconductor diode. It is equivalent to a thyristor with a disconnected gate.
Symbol
Application
Trigger switch for silicon controlled rectifier
Relaxation oscillator / sawtooth oscillator
Audio amplifier
Silicon controlled rectifier
Description
SCRs is a four-layer solid-state current-controlling device that are unidirectional and can be triggered normally only by currents going into the gate.
Symbol
Application
Medium- to high-voltage AC power control in lamp dimming, power regulators and motor control.
Rectification of high-power AC in high-voltage dc power transmission
Control of welding machines
Switching device
Step recovery diodes
Description
It can be used as a charge controlled switch having the ability to generate extremely short pulses. It is also called snap-off diode or charge-storage diode or memory varactor
Symbol
Application
Local oscillators
Voltage-controlled oscillator
Frequency synthesizers
Frequency multiplier
Comb generator
Sampling phase detector
Super barrier diodes
Description
Super barrier diodes are rectifier diodes that incorporate the low forward voltage drop of the Schottky diode with the surge-handling capability and low reverse leakage current of a normal p–n junction diode. These have the ability to sustain more than twice the reverse avalanche energy of an equivalent Schottky diode
Symbol
Application
Rectification in power circuit
Transient voltage supression diodes
Description
A transient-voltage-suppression diode, also transil or thyrector, is used to protect electronics from voltage spikes induced on connected wires. It is a clamping device, suppressing all overvoltages above its breakdown voltage. It automatically resets when the overvoltage goes away, but absorbs much more of the transient energy internally than a similarly rated crowbar device.
Symbol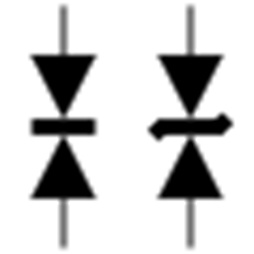 Application
Protect against voltage spikes.
TRAPATT diode
Description
The TRAPATT or TRApped, Plasma Avalanche Triggered Transit diode belongs to the same basic family as the IMPATT diode. The TRAPATT diode is based around the initial concept of the IMPATT but it has been enhanced by increasing the doping level between the junction and the anode.
Application
Microwave oscillator
Tunnel diode
Description
This diode is heavily doped in the forward bias condition that has a negative resistance at extremely low voltage and a short circuit in the negative bias direction. It is also known as Esaki diode. Tunnelling is a quantum mechanical effect that causes the negative resistance.
Symbol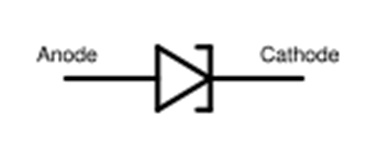 Application
Microwave ampilifer
Oscillators.
Vaccum diodes
Description
Vacuum diode is the simplest form of vacuum tube. It consists of two electrodes, a cathode, and an anode or plate. The cathode emits the free electrons. Hence, it is called as emitter. The anode collects the free electrons. Hence, it is called as collector. This diode can tolerate high inverse voltages.
Symbol
Application
Audiophiles
Vacuum fluorescent display
field electron emitters
Amplifying, switching, and rectifying
Varicap or varactor diodes
Description
A varactor diode is one sort of semiconductor microwave solid-state device and it is used in where the variable capacitance is chosen which can be accomplished by controlling voltage. These diodes are also called as variceal diodes. Even though the o/p of the variable capacitance can be exhibited by the normal PN-junction diodes.But, this diode is chosen for giving the preferred capacitance changes as they are different types of diodes. These diodes are precisely designed and enhanced such that they allow a high range of changes in capacitance.
Symbol
Application
Voltage controlled oscillators
RF filters
Zener diodes
Description
A Zener diode is a particular type of diode that, unlike a normal one, allows current to flow not only from its anode to its cathode, but also in the reverse direction, when the Zener voltage is reached. Zener diodes have a highly doped p-n junction.
Symbol
Application
Waveform clipper
Voltage shifter
Voltage regulator