An operator console is an electronic device that is used to control various field equipment in an industry. The operator console gathers various information such as flow, pressure, temperature, level, humidity, etc from various instruments through DCS system controllers and shows all this information on a monitor.
An operator can take appropriate decisions based on the data shown on the display.
Operator Console is an interface that permits the operator to do the following things:
Monitor and Control the process industry.
Discover if any issues in the industry
View and control alarms.
View critical process parameters history.
Create, view, monitor, and schedule various reports
Easy to create and view dashboards.
Because consoles are the primary means of communication for operators, they must be physically protected against unauthorized personnel access.
Each component consists of various graphical user interface controls that allow operators to manage to show how the results display various data and results.
Process Display View:- It shows the process displays in the industry; these process displays will be a graphical representation of P&IDs as per operator requirements. There will be Overview displays (Level1 display), Unit displays (Level2 display), Equipment display (Level3 display), and supporting displays (Level4 display).
Click here to know more about various levels of HMI displays
Alarms View:- It shows all the alarms in the process industry
Groups View:- It shows a list view of each group
Trend View: - we can predict the future by analyzing the data we already collected from various field instruments and we can also necessary steps to avoid prior to if any chance of an emergency.
Reports View:- Shows all the reports created in your plant.
Components involved in operator console
The components in the operator consoles are
Monitor - Single/Multi-window monitors
Operator Integrated Keyboard and Mouse
Alarm Panel for Annunciation
Maintenance Override Switch (MOS) Panel
Plant Emergency Shutdown (ESD) Switch
Monitor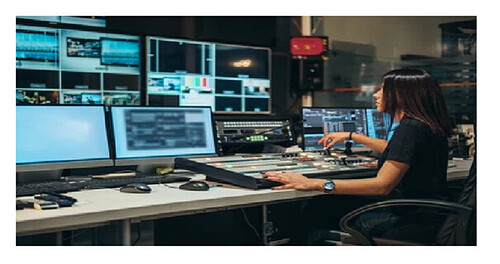 The main purpose of a monitor in an operator console is to show various information gathered from various equipment in the plant in a visual format that has been fed to it by a computer's video card. This makes the operator make decisions based on the data presented in the monitor.
Monitor Manufacturers
Acer
Asus
BenQ
Dell
HP
Samsung
Sony
Operator Integrated Keyboard and Mouse
Most interaction between user and computer is done by using keyboard and mouse. Both are considered input devices. The keyboard allows the user to give required instructions, numbers to the computer, and the mouse is designed to use the user to position the cursor, execute and draw program functions by clicking the mouse buttons.
Keyboard and Mouse Manufacturers
Logitech
Dell
Zebronics
Dell
HP
Alarm Annunciator
It is an audio-visual warning system that is used to highlight the fault or mishap which is going on, or even before it occurs. This is also very important for safety concerns, and sometimes the warning comes before an improper procedure, warning the operator to avoid an unwanted accident, and so on. This is the fundamental idea behind the Alarm Annunciator and the alarm annunciation system.
Maintenance Override Switch (MOS) Panel
Maintenance override is a function associated with the emergency stop system (ESD) that disables the inputs or outputs of a safety system for maintenance activities in order to avoid triggering actions caused by either false signals or logic tests.
Click here to know more
Plant Emergency Shutdown (ESD) Switch
An emergency shutdown system, or ESD, is a system used in hazardous areas to prevent situations that could have disastrous economic, environmental, or operational consequences. They are intended to reduce the consequences of emergency situations, such as personnel injury or equipment damage, by protecting against leaks, hydrocarbon escape, fire outbreaks, and explosions. Oilfields (oil well heads), oil and gas processing plants, gas and steam turbine power plants, and boilers all have emergency shutdown systems.
How do emergency shutdown systems work?
Emergency shutdown systems work by detecting critical conditions within a system and then activating to prevent leaks, explosions, or other major malfunctions. An ESD can be activated by any of the following factors:
Partially shut down systems and equipment
Electrical equipment isolation
Blowdown or depressurization
Control of emergency ventilation
Watertight and fire doors must be closed.