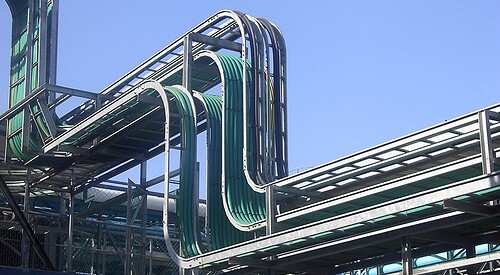 What are cable trays?
Cable trays are rigid structures used to support and raceways the cables. The National Electrical Code (NEC) specifies the cable tray type to be used. Cable trays are capable of supporting all types of wiring, such as:
High voltage power lines

Power Distribution lines

Optical lines

Telecom and control lines
Cable tray wiring systems are the preferred wiring system when evaluated against equivalent conduit wiring systems in terms of safety, reliability, space and cost.
Cable tray materials used:
The material selection for the cable tray is based on the purpose and coatings are provided on purpose.
Aluminium: Aluminium trays are lightweight and used because of high strength-to-weight ratio. The advantage of using aluminium is that it is maintenance free.

Steel: Steel trays gives mechanical strength and low cost but has a high weight.

Stainless steel: It has the high mechanical strength and high ambient temperature. Stainless steel cable tray is roll-formed from AISI Type 316 stainless steel.
Types of cable trays:
Ladder tray

Solid bottom cable tray

Trough ( ventilated) cable tray

Channel (perforated) cable tray

Wire mesh cable tray

Single rail cable tray
Ladder tray: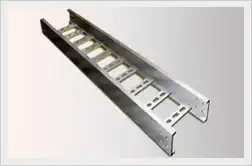 Used for long support span 12 - 30 feet. It is the most used type of tray. The tray can allow free flow of air through it. Standard widths of 150,300,450, 600, 750 and 900 millimetres are available. Solid side rail protection and system strength with smooth radius fitting.
Ladder cable tray cannot pipe hazardous or explosive gasses from one area to another as happens with conduit systems. In areas where there is the potential for dust to accumulate, ladder cable trays should be installed.
Solid bottom cable tray: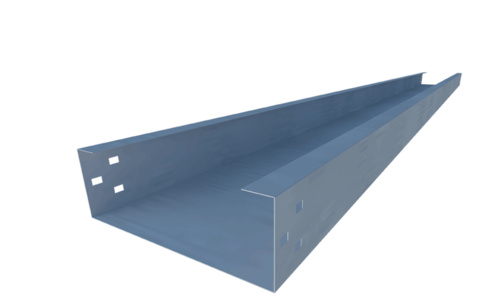 This is a non-ventilated cable tray. Solid bottom metallic with solid metal covers. Electrical and telecommunication wires with short to intermediate support span 5 to 12 feet are usually installed on this type of trays.
It has all the standard widths that ladder trays have and as it is non ventilated it is used for less heat genarating purposes.
Trough cable tray: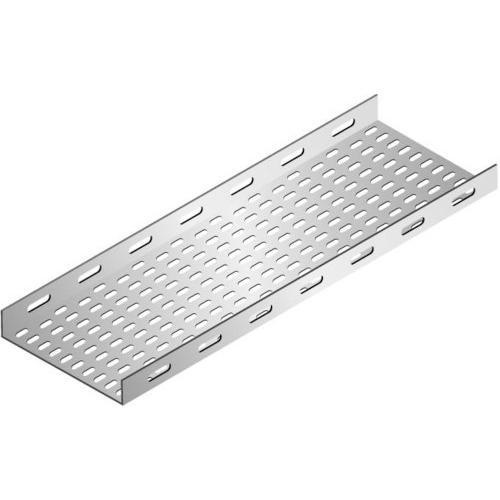 Moderately ventilated trays with cable support, available metallic and non-metallic type. Available in all standard widths.
Trough cable trays are used for moderate heat-generating applications with short to intermediate support span of 0.3, 3, 6 meters.
Channel cable tray: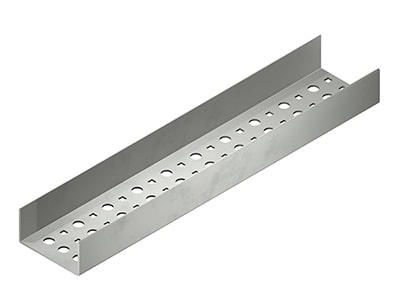 Channel trays are used for installation with limited trays. It is used in installations where the cables exit through the ventilation openings and the cable channel or the cables are subject to some degree of vibration.
Supports span of 1.5 - 3 meters. Channel cable trays are used for installation with the limited number of trays. Standard widths of 3, 4, & 6 inches in metal systems and up to 8 inches in nonmetallic systems. Standard length of 10, 12, 20 & 24 feet.
Wire mesh cable tray: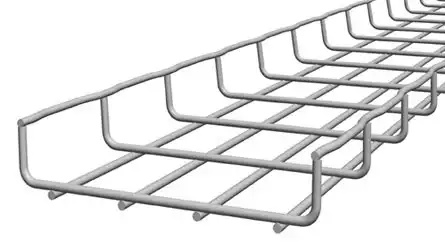 A field adaptable support system for low voltage. Generally used for telecommunication and fibre optic applications and installed on short support span, 1.2 to 2.4.
Single rail cable tray: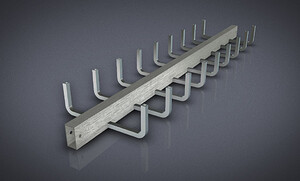 It can have single or multiple trays, central support or wall fixed, for maximum freedom fort cable to enter and exit the system. Used for low voltage and low power cables.