What is Building Automation?
Building Management System (BMS) or Building Automation System (BAS) is a computer-based network system that monitors, regulates, and manages equipment and systems in buildings such as electrical lighting, HVAC, Access Control, Security Systems, and other linked systems BAS.
BAS is a tool in the hands of building operations personnel to provide more effective and efficient control over all building systems.
Building Automation Objectives
The main objectives of building automation are
Improved occupant comfort
Increased security
Control energy usage
Reduce operating as well as maintaining costs
Effective operation of building automation
Can access, control, and operate remotely
Data collection
Components of Building Automation System
The main components of BAS are
Sensors
Controllers
Communication networks
Host computer
Software
Top 7 companies in Building automation systems are
Honeywell
Schneider Electric
Siemens
Mitsubishi Electric
ABB
Johnson Controls
United Technologies
Basic Architecture of Building Management System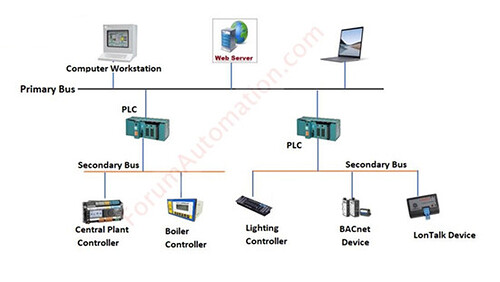 Honeywell
Honeywell is a global leader in the design and manufacture of building automation systems. They assist in the construction of various automation systems in buildings ranging from stadiums to shopping malls, as well as productivity and security for everyone who works there.
Products
The major building automation products of Honeywell's are
HVAC (Fans, Air conditioner, Thermostats, Air purifier, etc.)
Access Control ( Control panels, visitor management systems, various types of readers, etc)
Security Systems (CCTV, NVRs, etc.)
Honeywell Personal Protective Equipment (PPE) ( various types of masks)
IR and UV Flame detectors- FS20X
Applications of Honeywell BMS Solutions
Can easily and rapidly configure system architecture and room automation
Control temperature, humidity, dust, etc.
Increased security
Effective operation of building automation
Water management
Environmental Control: HVAC Monitoring
Fire/Smoke Detection and Alarm
Data collection
Schneider Electric
Schneider Electric is a French-based multinational company founded in the year 1836 that specializes in energy management and automation systems. It also provides both software and hardware products.
Products
Building Management ( EcoStruxure Building Operation & Building Expert, Andover Continuum, etc.)
Power Management (Power monitoring & operation expert, Facility expert onsite (FXO))
Small Building Control
Fire & Security (ESMI Fire Detection)
Applications of Schneider BMS Solutions
Schneider BMS solutions are compatible with a wide variety of application types. They are
Industrial (Cleaning machines, forklifts, Robots, industrial drones, Trains, etc.)
Automobile (Buses, Trucks, Cars, Utility Vehicles, etc.)
Marines (Submarines, Leisure, UAV, Boats, etc.)
Energy ( PV Timeshift, Peak shaving, Grid support.)
Home automation
Home security
Fire/Smoke Detection and Alarm
Siemens
Siemens is a German company located in Munich, Germany, that was founded on October 1, 1847. Siemens is Europe's largest industrial manufacturer.
Siemens is a leading provider of laboratory diagnostics, medical imaging equipment, and clinical information technology, as well as one of the world's leading innovators in energy-efficient and resource-saving technology.
Products
Sensors ( Dust, temperature, humidity, etc.)
Room thermostats ( Smart thermostat, standalone thermostat, communication thermostat, etc.)
Access control ( SiPass integrated, SIPORT, Siveillance Identity, etc.)
Security ( Video surveillance management, Siveillance Perimeter, Siveillance Intrusion, etc.)
Applications of Siemens BMS Solutions
Control temperature, humidity, dust, etc.
Increased security
Control energy usage
Reduce operating as well as maintaining costs
Electric Vehicles
Grid Power Infrastructure
Mitsubishi Electric
Mitsubishi Electric Co., Ltd., headquartered in Tokyo, Japan, is a worldwide electronic appliance manufacturer. It was founded on January 15, 1921
Products
Elevators (NexWay, NexWay-S Package R, NEXIEZ-MR)
Escalators(Series u Escalators, Series Z Escalators, SPIRAL ESCALATOR, etc.)
Air Conditioning Systems (Room Air Conditioners, Package Air Conditioners, Variable Refrigerant Flow (VRF) Systems, etc)
Home Products( Refrigerators and Freezers, Dehumidifiers, Air Purifiers, Vacuum Cleaners, etc)
Applications of Mitsubishi BMS Solutions
Provide high security
Effective operation of building automation
Can access, control, and operate remotely
Room temperature controller
Can sense various toxic gases presents
ABB
ABB Ltd, located in Zürich, Switzerland, is a Swedish–Swiss multinational corporation founded in 1988.
Major activities
Robotics
Datacenters
Energy efficiency
Food, & beverage
OEM
Panel makers
Oil & gas
Products
Door entry systems (Video indoor & outdoor stations, Audio indoor & outdoor stations, etc.)
Access Control ( Cylinders, System Devices)
Alarm Systems (Alarm System - GM/A, Motion Detectors, Magnetic Contacts, etc.)
Lighting & emergency lighting
Applications of ABB BMS Solutions
Can quickly and easily configure system architecture and room automation
HMI (Human Machine Interface) and visualization for the Internet of Buildings that are simple to use (IoB)
Decentralized IT structure that ensures interoperability as well as security
Scheduling (calendar), trending, and alarming are all integrated services.
Johnson Controls
Johnson Controls International is a multinational corporation based in the United States that makes building fire, HVAC, and security equipment.
Products
Access Control (Door Controllers, Readers, Exit Devices and Cards, Electronic and Wireless Locks, etc.)
HVAC (Fans, Air conditioner, Thermostats, Air purifier etc.)
Security solutions (CCTV, Alarm system, Panic device & protection solution)
Applications of Johnson Controls BMS Solutions
Energy Information Management
Fire detection & suppression
Building automation & controls
HVAC equipment
Energy storage
Building Safety: Indoor Air Quality
United Technologies (Raytheon Technologies)
United Technologies Firm (UTC) was a multinational corporation headquartered in Connecticut, in the United States. It merged with Raytheon Company to establish Raytheon Technologies in April 2020. UTC was also a big military contractor, with the US government accounting for around 10% of its income.
Major activities
The major activities of United technologies are
Aviation engines
Aerospace systems
HVAC
Elevators and escalators
Fire and security
Building automation etc.
Applications of United Technologies BMS Solutions
Energy Information Management
Building Security Threats & Emergencies
Decentralized IT structure that ensures interoperability as well as security
Can sense various toxic gases presents
Fire/Smoke Detection and Alarm