THREE PHASE INDUCTION MOTOR

The induction motor is a kind of AC motor in which the power is supplied by means of electromagnetic induction to the rotating device in induction motor the power is induced in the rotating device.
The name three phase induction motor is derived from its function that rotor current is induced by the magnetic field instead of electrical connection its operating principle is based on the production of rotating the magnetic field

WORKING PRINCIPLE OF THREE PHASE INDUCTION MOTOR
It has a stator and a rotor like any other motor the stator carries a short-circuited wiring while the rotor carries 3 phase winding. Only the winding of stator is connected to the three phase supply by the help of the stator winding the rotor winding gets its power and voltage and it will be done by the electromagnetic induction it can also be called as a transformer with a rotating secondary and thus it may be called as an AC machine transformer type and in it electrical energy is converted into mechanical.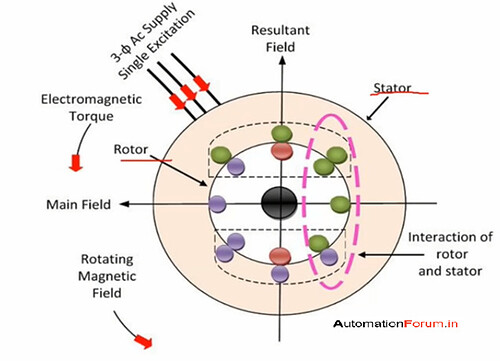 SLIP AND SLIP SPEED IN AN INDUCTION MOTOR
Slip – it is the difference between the main flex speed and rotor speed in an induction motor
Slip speed – it is the difference between the rotating magnetic field speed and the speed of the rotor
SPEED CONTROL OF THREE PHASE INDUCTION MOTOR
It will be difficult to control the speed in a three-phase induction motor since it has constant running speed
ADDING RHEOSTAT TO THE STATOR CIRCUIT
A rheostat will be added to the stator and it thus it will reduce the voltage. While the reducing voltage will cause the decreasing of torque too but to supply the load the torque must remain same for this we need to increase the slip if the slip increase motor will run at a reduced speed.
ADDING EXTERNAL RESISTANCE TO THE ROTOR SIDE
In order to control the speed external resistance is added to the rotor and thus we can reduce the speed but while doing that the torque will decrease too so we need to increase the slip which will decrease the rotor speed.
ADVANTAGES OF THREE PHASE INDUCTION MOTOR
SIMPLE AND RUGGED CONSTRUCTION
Relatively cheap
Requires little maintenance
High efficiency and good power factor
It has self-starting torque
Explosion proofed