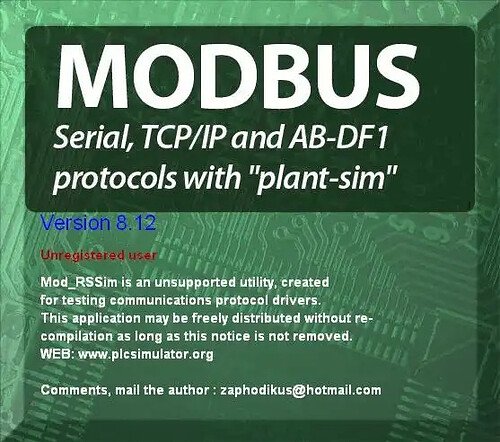 The Modbus PLC simulator supports the modbus and TCP protocols, it allows the user to know about the master-slave components. The simulator is also called as MOD_RSSIM,
It can be used as a virtual PLC for training and development purposes. This simulator was written to allow the testing of a MODBUS RTU serial controller without having to obtain 254 small MODBUS PLCs in an office.
it implements the common functions used in MODBUS and other protocols supported here.
Downloads for Modbus PLC simulator:
https://sites.google.com/site/plcsimulator/downloads
Supports in: Windows 95, Windows 98, Windows ME, Windows 2000, Windows XP (all versions), Vista and Windows 7.
Download the Microsoft installer file along with the software for download support.

if you run Vista or Windows 7, you should download the version published as 8.18, which is actually 8.17 when you run it (sorry).
Installing:
Install the exe file from the downloads, The simulator must open the first serial / RS-232 port available the first time it is run, select the desired protocol (if Ethernet is used, a serial port is not needed), and then click the port setting to change any configuration.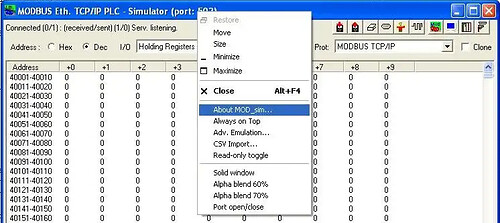 The first menu is the Task / System menu. Right click on the title of the window. The normal ways to control a window are available here, highlighted is the About box, which provides the program version and contact information.

It takes you to the advanced emulation configuration dialogue corresponding to the protocol you are using.

Import CSV files containing register values

Turns the simulator into read-only mode, registers cannot be set.

set the transparency of the window, (not for windows versions < Windows2000).
User interface:
The load will not work unless you have saved first.

Save will save all the registry values in a flat binary file (do not edit it, I can not) called 'modbus.dat', (ABDATA.DAT if you use the DF1 protocol) in the current folder. This is good to allow you to fill the records with values and then return to the same configuration. Communications will be slow and may be exhausted during loading/saving, as they are interlocked.

The zero values ​will erase all the values ​​(also the digital values ​​become 0).

Switch between hexadecimal and decimal views.

The boxes at the bottom function as indicators to show which stations are active; the gray line of each frame will change colour (they will turn off after five seconds), and clicking on them deactivates each station (only 60 are displayed). The green background turns red to show a disabled station. The disabled stations will continue showing activity, but the simulator. it simply will not respond again.

DDouble-clickon the list view on a record, to edit its value, double click on the digital I / O to toggle them.

Click on Animation settings … to change the color of the indicators at the bottom and set some simulation data.