What is Tank gauging?
Tank gauging is the estimation of liquids in large storage tanks for the purpose of quantifying the fluid volume and density in the tanks.
What is Automatic Tank Gauging?
An automatic tank gage (ATG) is an electronic device that tracks the amount of fuel in the tank over a period of time to see if the tank is leaking.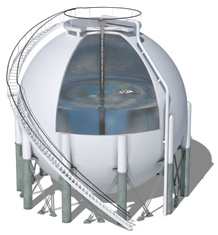 ATG in a still pipeline
Tank Gauging is a PC-based proprietary system with modular design and optimized for plant operators and the Tank Information System, Oil Movement Information System, Blending Optimization and Supervision System and Yield Accounting System via serial interfaces to the DCS.
The tank gauge system also contains methods for taking temperature and specific gravity into account.
Why an Automatic Tank gauging system is needed?
The liquid surface in a floating roof tank is covered either by an internal or external floating roof. Depending on the service, the liquid and the tank size, there are many different designs for floating roofs.
It's common for floating roof tanks to have one or more still-pipes running from the tank's bottom, through a gap in the floating roof to the tank top. This still-pipe is used for sampling, hand level gaging, hand temperature calculation and automated tank gaging to reach the oil.
With a successful Automatic Tank Gauge (ATG) configuration all these stuff can be done in one pipe only.
System architecture of ATG:
Most process level gauges are configured to only provide level information to a DCS device, and no unique ATG functions are usable.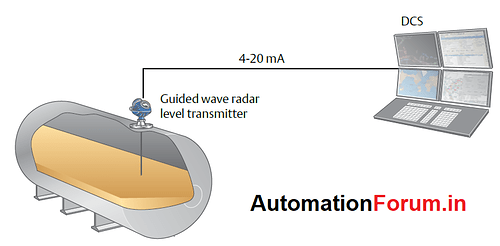 Such a function might be an optimized average temperature calculation that takes into account tank volume, tank wall expansion correction algorithms, Tank Capacity Tables temperature correction, etc.
In comparison, most process level gauges use a 4-20 mA current loop with a resolution that is too small for tank measuring purposes, and the device can lack connectivity possibilities for a more powerful or sophisticated digital bus.
Components & working of Automatic Tank Gauge:
Electronic unit:
The Electronic System is housed inside the Transmitted Head protection enclosure. The Electronic Unit consists of the microwave system, signal processing chips, data transmission, power supply, and transient safety.
Temperature Measurement
Multiple Spot Thermometer (MST) for accurate reliable measuring of temperature. Multiple Spot Thermometer (MST) measures the temperature of a variety of Pt 100 spot components at different heights to provide a profile of the tank temperature and average temperature.
Only the elements that are fully immersed are used to determine the product temperature.
Water Interface Measurement:
Water Interface Sensor constantly monitors the interface level between water and oil in most tank types. Water Interface Sensor, WBS 3000, is inherently safe and is attached to either the Individual Data Acquisition System or the Current Loop Card.
On-Line Density Measurement:
Tank Radar Gauges are augmented by a pressure sensor at the tank's rim. Since the product's height over the pressure sensor is known, the product density can be determined.