There are several PLC manufactures that all engineers and technicians should know about. The PLC brand is selected depending on the workplace, Some places use more than one manufacturer in a single facility. Let look at some top brands in PLC controllers.
Something common for all these PLCs is modular devices, according to the application they have been used for, modular devices are added.
1. SIEMENS:
Siemens is a German multinational, which can be the most heard name amoung PLC manufacturers.

Siemens produce PLC controllers in brand name "Simatic", which stands for Siemens automatic. Siemens has a range of products namely Simatic S7-1200, Simatic S7-1500, Simatic S7-300, Simatic S7-400.
Supports: Ethernet, TCP/IP, Profinet

The range of SIMATIC Controllers starts from logic modules to Basic, Advanced and Distributed Controllers all the way to Software Controllers
2. Allen-Bradley:

Allen Bradley PLCs are available in different size, they are available in large, mid and micro-sized. A large sized PLC which is named as PAC (Programmable Automation Controllers) is able to control an entire plant if it is properly designed.
This is achieved with its controllers and ControlLogix software, GuardPLC for security systems and the SoftLogix software package.
The SLC500 and MicroLogix are small PLC, they are used for smaller applications.
Programming for Allen-Bradley controllers comes in the form of RSLogix 5000 and the new Studio 5000.
3. ABB
ABB has the AC500 series, with small and large PLCs.

The AC500 line that sets it apart from other brands is its concept of "any module on any CPU." This means that no matter what CPU you have for your AC500 PLC, you can use any ABB AC500 module.
4. Mitsubishi PLC: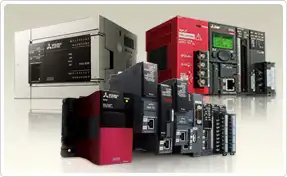 Mitsubishi PLC has MELSEC series. List as MELSEC iQ series, MELSEC L series, MELSEC F series, MELSEC A series.
iQ series are the latest generation, F series are low-cost compact PLCs, and there is MELSEC QS/WS series designed for safety control.