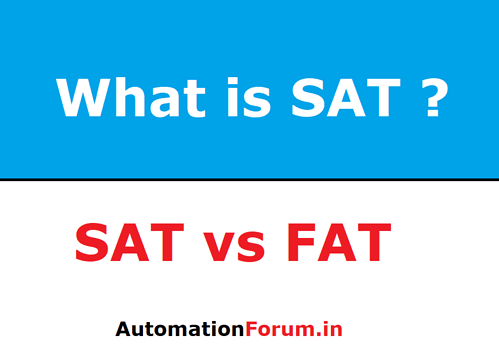 What is the SAT (Site Acceptance Test)?
An SAT (Site Acceptance Test) is a performance test conducted on the client's site /location in accordance to client-approved test plans and specifications to show the system is installed properly and interfaces with other systems and peripherals in its working environment.
The test aims to test whether the system is in accordance with what is stated in the system functional specifications (validation), The test will be carried out by the developer and the results will be assessed by the user and verified.
SAT test consists of two stages: Before shipping and after installation, it involves all aspects of the system: hardware, application software, software environment, location, and operators.
SAT test documents:
Philosophical Test
Test Plan
Test specifications
Test logs
Test summary
Commissioning Report
Certificate of Acceptance
List of items to consider while performing SAT:
Finishing the visual check

Main visual check

Internal box pressure and ventilation setting

Utltilies functionality and setting check

Functionality/inetrloack verification

Safety device and interlocks check

Operators training.
General SAT procedure:
Delivery check:
After pre-delivery tests are carried out and received. Additional things to do:
Check for damages of hardware, software, and documentation.

Hardware Test: no damage during storage and shipping, installed properly, operating properly in the environment to be installed (electricity, room, etc.).
Testing of all Supporting equipment needs:
Test schedule on site:
Hardware validation test
Hardware test with connection to site
Fault validation testing: response out-of limit input
Functional testing: comprehensive functional system testing
Extended running
Other aspects that must be considered:
Staff training that will operate the system
Staff training that will maintain the system
Other requirements for tuning systems, eg max throughput, max. efficiency, minimum cost
Other evidence such as alarm systems, safety, security, and back-up
Difference between SAT & FAT:
Any project involving the development of equipment from a third party should incorporate a FAT and SAT into the life cycle of the system. It will lead to a much easier IQ / OQ process if both the FAT and SAT are performed correctly.
These are basic differences between SAT and FAT:
What is?
FAT: Before shipping to a customer, a FAT or Factory Acceptance Check is conducted at the supplier. The manufacturer is testing the system in compliance with the customer's validated check plans and requirements to show that the device is at a stage to be checked on site.
SAT: A SAT is a site validation test; the device is evaluated in compliance with the client's validated test plans and requirements to demonstrate that the system is properly installed as a d interface in its working environment with other devices and peripherals.
Publication source:
FAT: GAMP 4, Good Automated Manufacturing Practice Guide for Validation of Automated Systems
As per the standard a FAT documentation includes:
Performed FAT Protocol
Maintenance and User's manual
Recommended spare parts list
Certificate of compliance
As built technical drawings (electrical, mechanical, pneumatic & process schemes)
Materials certificates/data sheets
Main equipments data sheets
Instruments calibration certificates
Welding Processes qualification
SAT: ISPE Commissioning and Qualification Baseline Guide (March 2001)
Below is a list of some items that should be considered when performing a SAT as per ISPE :
Finishing Visual check
Main components visual check
Internal box pressure and ventilation setting
Utilities functionality and setting check
Functionality/Interlocks Verification (Mechanical & Software)
Safety devices and interlocks check