Cold Junction Compensation
What is a junction?
A point in your system where two dissimilar metals are coming contact with each other.
Hot junction - refer to the jointed end of a thermocouple.
Cold junction - refers to another dissimilar metal junction in your measuring system.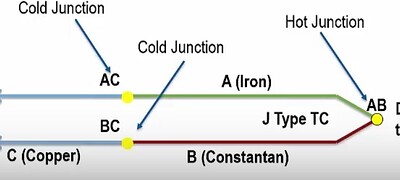 AB generates a voltage proportional to the temperature.
AC and BC generates voltages at two other junctions.
Voltage at AC and BC are required to determine AB.Now all three junctions are being measured causing a cold junction error.
Cold Junction Compensation Error - Difference between the actual temperature at the cold junction and the temperature measured by the device.
How to minimize Isothermal error ?
CJC thermally connected to thermocouple terminals CJC ass close as possible to thermocouple terminals Keep the ambient temperature as stable as possible. Keep the measuring device in a stable and consistent orientation. Minimize adjacent heat sources and airflow across the measuring device Avoid running thermocouple wires near hot or cold objects Run thermocouple wiring together near the measurement device Allow thermal gradient to settle after temperature change in system power or in ambient temperature. Use the smallest gauge thermocouple wire suitable for the application. Only use extension wires that are made of the same conductive material as the thermocouple wires.