ELECTRICAL HAZARDS
Electrical hazards can be categorized into three types
Electrical shocks
Electrical arc burns
Effects of a blast which include pressure impact, particles flying from a vaporized conductor
The two major hazards which are related to electricity is shock and fire, complete path is needed for electricity to flow continuously without two contact point on the body for the current to enter and exit there won't be any electrical hazard and because of this birds won't get electric shocks when the rest in high voltage power lines.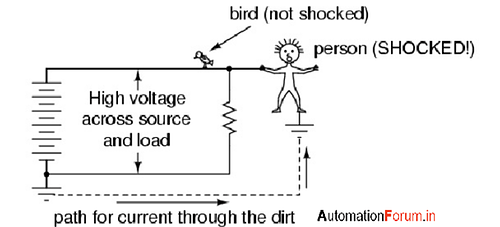 Electrons will only flow through a conductor if there is any voltage, voltage is always related to "two points" not a single point and because there is no dual point where the bird sits only the single point won't cause any electrical shocks because there is no voltage present. So if there is no voltage then no electron flow but in our case our feet touches the ground and because of this "two points" and thus we will get an electric shock, one side of the power system is connected to the ground so the two points are the wire and the earth ground.
Sparks from electrical equipment would act as an ignition source and thus spark must be prevented in order to prevent fire
Electrical power loss may create hazard situations there may be a situation when the power loss happens the refrigerator fails and it could release toxic vapors
PREVENTING ELECTRICAL HAZARDS
We could prevent electrical hazards in many ways by using insulation, guarding and electrical protective device, grounding.
HOW CAN WE PREVENT ELECTRICAL HAZARDS AT HOME
CIRCUIT BREAKERS AND FUSES
By using these protective devices we can shut of the flow of electricity during the ground fault condition or in case of short-circuit in the wiring system, fuses and circuit breakers prevent the overheating of the wire and components and that will prevent fire
GROUND FAULT CIRCUIT INTERRUPTER (GFCI)
It will shut off the electric power if a ground fault is detected and thus it will protect the users from electrical shocks it Is mostly used near wet locations sometimes it may cause equipment to shut down immediately
PROTECTION FROM WATER
Electrical appliances must be kept away from water and moisture if any electrical appliance got wet due to some reason we must check it properly with the help of an electrician in order to plug in or use it again
CHOOSE THE RIGHT PROTECTIVE DEVICE
If the wattage rating of the devices does not match to the circuit rating in case of circuit breaker and fuses right size must be taken and it must be compatible with the circuit
CHECK THE POWER CORDS
Make sure the power cords are properly insulated and we must treat it gently, make sure that the power chord is not jammed excessive pressure could damage the insulation
USE PROPER WALL PLATES
We must check if the wall plates are damaged or broken the wall plates does the prevention of electrical contacts to our hand if we use a broken wall plate we could get electrocuted
WHAT ARE THE EFFECTS CAUSED BY ELECTRICAL SHOCKS
It can result from slight tingling sensation to cardiac arrest
Several burns could be created in our body mostly in places where the electricity enters and leaves
Heart and breathing muscles could be stopped by severe shocks
Severe bleeding, and breathing difficulty
WHAT ARE THE MAJOR CAUSES OF ELECTRIC SHOCK
Contact with bare wire which is a current carrying conductor can cause electrical shocks, proper insulation must be done to the wire
Usage of electrical equipment that doesn't undergo a safety inspection
Electrical Equipment without proper grounding
Static electrical discharge and lightning strikes
Electrical equipment contact with water will create problems
Metal ladders must not be used while working with electrical equipment because these ladders will provide a line from the power source to the ground