Speed
AC and DC tachometers are permanent magnet generators that produce a voltage proportional to speed.
The AC tachometer output frequency is also proportional to speed.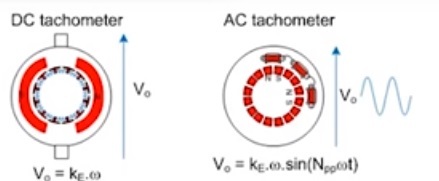 Commutator (Rotor Angle)
Brushless dc motor require low resolution feedback derived from the motor magnets using hall effect sensor.
A hall effect based magnetic encoder generates a pulse train for speed and incremental position

Precision Shaft Angle
Optical encoders with precision pattern printed on a glass disk provided very high resolution shaft position and speed data.
Resolvers generate sine/cosine relative to position.They are the analog counterpart of the rotary encoder.