Industrial automation is mostly used to ease work and to operate in hazardous environments where humans cannot. This is why they have risen to prominence in several businesses.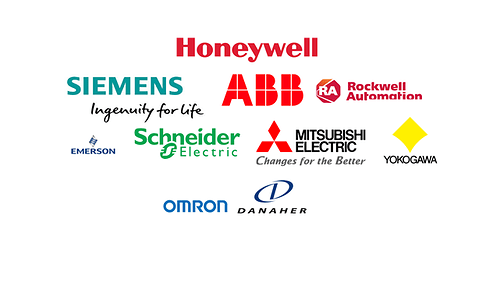 The following are the top ten industrial automation firms in the world:
Siemens
ABB
Emerson
Rockwell
Honeywell
Schneider Electric
Mitsubishi
Yokogawa
Omron
Danaher
1. Siemens
Siemens is a German-based company started on 1st October of 1847 in Munich, Germany. With offices in over 100 countries, Siemens is the largest industrial manufacturing company in Europe
Siemens delivers laboratory diagnostics, medical imaging equipment, and clinical IT and it is one of the world's top makers of energy-efficient, resource-saving technology.
Major activities
Automobile, Infrastructure, Energy, and industry.
Products:
The main products of Siemens are
Automation systems- ST 70, SIMATIC ET 200 etc.
Drives (Motors, Convertor, Generator, etc.)MICROMASTER 420, 430, 440 Inverter Drives SINAMICS G120, G120C, G150, G180 VFD Drives.
RFID solutions and Locating – RF 370R, RF 1000, RF 200, etc.
IPC System- IPC427E
Power supplies- PSU 6200 series, PSU 8600 series, PSU 8200 series, etc.
Process Analytics- SIPROCESS GA700, SITRANS SL
Industrial controls- SIRIUS 3RA6, SIRIUS 3RV20
Industry software
Operator Control and Monitoring Systems
Process Control
Process Instrumentation
2.ABB
ABB Ltd., originally Asia Brown Bower, is a multinational Swedish-Swiss company based in Zurich, Switzerland.
ABB has business in over a hundred countries with approximately 132,000 employees
The main activities are robotics, data centers, energy efficiency, food, beverage, OEM, panel manufacturers, oil and gas.
Products
The major products of ABB include:
PLC Automation- AC500, AC500-eCo, AC500-S, AC500-XC
Drives- ACS1000, ACS2000, ACS5000, ACS580MV etc.
Medium Voltage Products- ACS 1000, 2000, 5000 etc.
Low Voltage Products and Systems
Measurement and Analytics- 1330L, FPD 201, 220 etc.
Control Room Solutions
Mechanical Power Transmission
Metallurgy Products
Motors and Generators
Power Converters and Inverters
Robotics
Electric Vehicle Charging Infrastructure
3) Emerson Process Management
Founded in 1890 in St. Louis, Missouri, Emerson Electric Co. is a American-based multinational company headquartered in Ferguson, Missouri. Emerson employs around 83,500 people worldwide and has 200 production plants.
This company provides automation services to empower and strengthen the industries. The company's automation solutions trying to develop more complete solutions for customers based on industry experience.
Business platforms
Emerson is based on 2 commercial enterprise platforms
• Automation Solutions
• Commercial & Residential Solutions
Products
Automation Solutions of Emerson Process control include:
• Actuators, Valves & Regulators - Bettis G-Series Pneumatic Valve Actuator, Bettis BHH Series Hydraulic Valve Actuator, etc.
• Pneumatics &Solenoids
• Safety Systems - ROC800-Series, ControlWave PAC - Process Automation Controller, etc.
• Control Systems- DVC6200, DVC2000, etc.
• Electrical Components- LED Series Luminaires, SCP-X, etc.
• Precision Welding & Cleaning
• Services & Consulting
• Process manage systems
• Climate and power technologies
• Industrial automation
• Electric motors- NEB Series, AEXMS Series
• Storage systems
4. Rockwell automation
Rockwell Automation is an industrial automation and information technology based multi-national company from USA, founded in 1903.
Major Activities
Software segments.
Automation Systems
Construction Execution System
Products
Rockwell Automation's major products are:
PLC – MicroLogix, ControlLogix, CompactLogix
Advanced Process and Motion Control
Condition Monitoring & I/O
Input/Output (I/O) Modules- SLC I/O Modules
Drives & Motors
Design Software
Motion & Motor Control
Relays & Timers
DCS(Distributed Control Systems)
Human Machine Interface (HMI) and Drive Systems
Industrial Control, Sensors, and Network Products
Manufacturing Execution System
5. Honeywell
Honeywell International, founded in 1906, is an American multinational corporation headquartered in Charlotte, North Carolina.
Major Activities
Aerospace
Building Technologies
Performance Materials and Technologies (PMT)
Safety and Productivity Solutions(SPS).
Products
The products of Honeywell process solutions include:
DCS – Experion/TPS
PLC – ControlEdge
Safety System – Safety Manager
IR and UV Flame detectors- FS20X
Flame switches and Burner sequence- BC1000A0220U/E
Controllers- 1/16 DIN, 1/32 DIN, ¼ DIN
Modutrol Motor and actuators
UGV [Universal Gas Valves] & Gas TrainComponents
Adjustable port valves
Gas pressure switches- C6097
Ignition Transformers- ET401/ 402 Ignition Transformer
Pressuretrol Proportional Pressure Controllers- L91 Series
Satanic Burner controls and Components- 7800 Series
Limits and pressure controls, Communications, and software
6. Schneider Electric
Schneider Electric is a multinational corporation founded in France that specializes in energy management and automation systems, offering both software and hardware.
Schneider was established in 1836. The company was renamed Schneider Electric in May 1999.
Products
Safety System – Triconex
DCS - EcoStruxure Foxboro
Contactors and Protection Relays- 9A TeSys, EasyPact TVS
Human Machine Interfaces (HMI)
Industrial Automation Software
Industrial Communication
Interface, Measurement and Control Relays
Motion Control and Robotics- PacDrive 3 LMC Eco / Pro / Pro 2
Push Buttons, Switches, Pilot Lights, and Joysticks
Sensors and RFID System- XCSRC10M12
Variable Speed Drives and Soft Starters- Altivar 71, 71 Plus, Altivar 61, 61 Plus.
Process Control and Safety
Signaling Units- Harmony XVM, XVU
Remote SCADA and Telemetry Systems- SCADAPack 47x
7. Mitsubishi electric
Mitsubishi Electric Co., Ltd. was established on January 15, 1921. It is a Japanese multinational manufacturer of electronic appliances, headquartered in Tokyo, Japan. It is one of Mitsubishi's core companies.
Mitsubishi provides:
Controllers& Drive Products
Industrial Robots
Processing Machines
Power Monitoring Products
Products
Drives- MELSERVO-J5, FR-A series, FR-A800 Plus series
Controllers- MELSEC iQ-R Series, iQ-F Series
FA Sensors- Vision Sensor VS80, VS70, VS20
Factory automation systems-
Programmable Controllers- MELSEC iQ-R Series
Motors & pumps
Semiconductors- SiC-MOSFET, SiC-SBD
Digital signage and satellites.
8. Yokogawa electric
Yokogawa Electric Corporation is yet another Japanese multinational electrical engineering and software corporation operating in the control and information technology industries.
It employs 19,000 employees in 55 countries around the world.
Yokogawa was a forerunner in the development of distributed control systems, releasing its DCS Centum series in 1975.
Products
Field Instruments- EJA110E, ROTAMASS TI
Control System- CENTUM VP,
Safety System - ProSafe-RS Lite
Data Acquisition (DAQ) Instruments- GX10/GX20, DL350
Process Analysers- TDLS8000, FLXA402, FLXA202
Test & Measurement Instruments
9. Omron automation
Omron Corporation is a Japanese electronics manufacturer based in Kyoto. Omron was established in 1933.
Omron's major business is the manufacture and sale of automation components, devices, and systems, but the company is best known for medical devices such as digital thermometers, blood pressure monitors, and nebulizers. Omron was one of the earliest makers of automated teller machines with magnetic stripe card readers, inventing the world's first electronic ticket gate, IEEE Milestone, in 2007.
Products
Manufacture and sale of various automated equipment and systems.
The company also offers
Sensors- E3NC, E32-LT11N / LD11N / LR11NP
Switches (Pushbutton, Indicators Level switches, etc,)
Safety components- OS32C, F3SG-SR / PG Series
Relays- G2RV-SR, G7SA
Control Components and so on.
10. Danaher Industrial Ltd
Danaher Corporation is a Washington, D.C.-based multinational corporation in the United States. Professional, medical, industrial, and commercial products and services are designed, manufactured, and marketed by the corporation.
Platforms of the company are
Life Sciences
Diagnostics
Environmental & Applied Solutions.
Products
Electromechanical Counters- 1993 Series, 7437/7438 Series
Electronic Counters.
Mechanical Counters- 7458/7461 Series, 7434 Series
Position Indicators- C628-2
Process Indicators.
Rate Meters- MCJR4S00
Timers- HG1, 108752-001