ISA99 are cybersecurity standards developed by ISA (International Society of Automation) committee. The committee contains 500+ members representing different companies across the globe. The committee or the standards stand for protect the cyber environment of a user or organization.
The committee addresses:
Endangerment of public or employee safety
Loss of public confidence
Violation of regulatory requirements
Loss of proprietary or confidential information
Economic loss
Impact on national security
The ISA99 consist of 4 main IEC 62443 series of standards:
General

Policies & Procedures

System

Component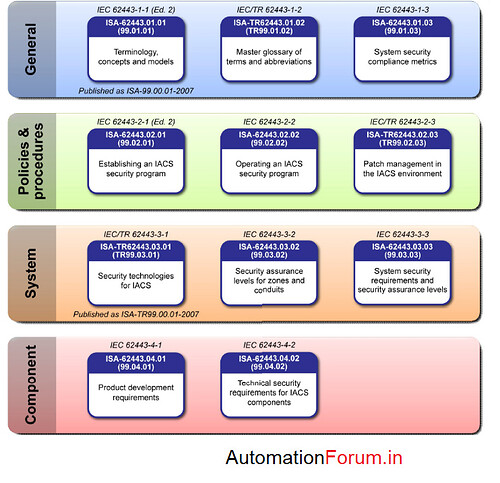 General:
This IEC 62443 series general is about Terminology, concepts and models, Foundational Material and Consistent Terminology. And Security Compliance Metrics.
Policies and Procedures:
2-2 and 2-1 functions on Establishing & Operating a Security Program: Specifically concerned on Asset Owner, Non-Technical, IACS-Specific Requirements & Guidance.

2-3 is for Patch management: Applying Well- Established Practices to IACS XML Schema for Patch Descriptions.
System:
3-1 for Security Technologies: Guidance on applying, Existing Tools, Technology and Controls to IACS.

3-2 for Zones & Conduits: Defining Logical Architecture Breakdown, Determine Target SALs

3-3 for System-Level Security Requirements: Technical Controls, IACS-Specific Requirements & Guidance, Specifies Capability SALs.
Component:
4-1 for Product Development Lifecycle: Requirements for Each development Phase, Building security in from the ground up.

4-2 for Component-Level Security Requirements: Technical controls, Expand system - Level reqs. for individual components, IACS-specific requirements & guidance, Specifies capability SALs.