Today I'm going to introduce you a software, IoT(Internet of Things Cloud Platform).
King Pigeon Cloud Server support APP+ Web monitoring, product lines covered most solutions from front transducers to end Cloud Web+APP monitoring. Support customer cloud server OEM and cloud server package selling for customer to revise.
The King Pigeon cloud server provide you a security and powerful data platform with GPRS 3G 4G or internet transfer way, support phone APP (IOS and Android) and Website login, which makes sure any time ,any where you can check the real & history data value. In the same time you can monitor the real time data and control the scene equipment remotely. For special requirement, we support the customized.The interface as below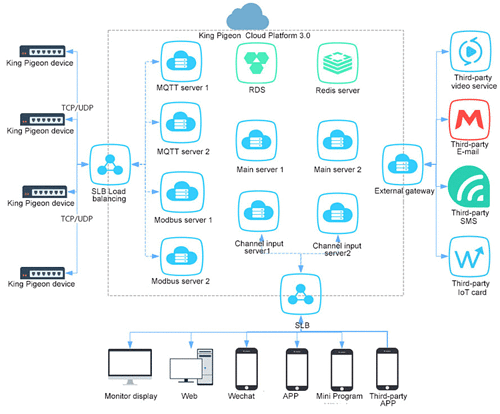 Core Advantages
Safety (1) Data encryption transmission,anti-peeping, tamper-proof. (2) Institution, role, user 3 hree dimensions of data access rights management

High reliability (1) Data backup: Cloud platform data off site backup to prevent data loss (2) Flexible expansion:Can expand server capacity as needed (3) High reliability: load balancing mechanism. When a single server fails, other available servers will work and the service will not be interrupted. No downtime update:Micro-service mechanism, platform update does not affect device operation.

Powerful function (1) Real-time remote alarm/Real-time remote control/Real-time remote configuration.
(2) Various alarm methods:Phone call/SMS/Wechat/E-mail/APP
(3) Support manufacturers, distributors, users' permission mode, and support both individual users and enterprise users.
Core Function User Management: Authority management: Institution, role, user three dimensions of data access rights management,Support manufacturers, distributors, users' permission mode, and support both individual users and enterprise users Personal user mode: Users can only view the device under the name Enterprise user mode: Allow multiple users to manage devices at the same time, distinguish permissions by role.
Device management:
One key integrate: The device default integrated into the King Pigeon cloud V3.0 platform, scan APP to integrate,data acquisition and control device easily.
Remote configuration: Support device real-time remote configuration/restart/reset, Maintenance personnel can configure the device remotely.
Device grouping: Device group display.
GIS map display: Map display location, support recording device running track.
Real time monitoring
Large screen display:Display the total number of devices, users, alarm records, trigger task execution alarm etc.
Alarm management
Trigger task:A variety of trigger conditions,supports high/low value trigger/delay detection alarm/ device off-line comprehensive judgment of multiple data trigger conditions, support mass texting.
Multiple alarm methods: Supports Phone call/SMS/Wechat/E-mail/APP.
Linkage control: Support the linkage control device when trigger.
Timer task: A variety of timer tasks for device management, support for daily, weekly, monthly, monthly end, fixed time intervals, etc.
Statistical Analysis
Historical data query:Supports sensor data,device on/off line,device alarm,device control historical data inquire display,and graph display.
Historical data export: Supports excel type data download.