What is an instrument index?
Instrument index is a document that is created at the beginning of the project, which contains the list of instruments used in the plant. Name of the instruments is listed along with the Lable number, tag number, P&ID number, Loop number, service number etc…,
Checking the instrument index we can know about the instrument details like the location of instrument implemented (zone), in which P&ID, Hook-Up diagram and Loop diagram the instrument belong to, and the manufacture details etc.,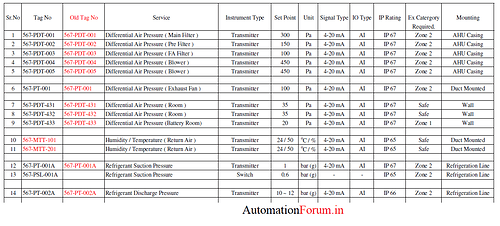 The instrument index should be updated even after the plant is in process. The index of the instrument will be reviewed if there is any modification of the plant or system that has an impact on the removal or additional restart of the instrument.
In instrument index document, the following information should be stated but not limited to:
Tag number
Loop Number
Type of Instrument
Location
Service description
P&ID Number
Line number or equipment number
I/O Type
Control System
Range or set point along with engineering unit used
Applicable reference Document ( Instrument Data Sheet number, P&ID number, Hook-up Drawing number, Instrument Layout number, Loop Drawing number)
Package Number
Manufacturer
Model Number
The following are the example of instrument index:
Instrument Index for HAVC system: -Instrument-Index.pdf (39.0 KB)
Instrument-Index.pdf (2.1 MB)