How to set the IP address for Micrologix 1400
Click the ESC button in the PLC to enter the configuration menu
After entering the configuration menu select the advanced setup
After that select the Ethernet configuration
In the Ethernet configuration we can see a status menu and it will display the current IP address
To change the IP address press the ESC key and select the IP address
Press the OK key and change the IP address and press OK
If we press OK then we are now capable to edit the subnet mask and the default gateway.
How to do the Ethernet communication setup and download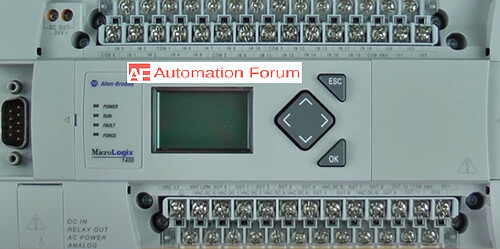 After completing the IP address set up it can be done by the above procedure, then we can connect the drive to a computer by the following steps.
In order to do the connection select the network and sharing center in your PC
After that select the local connection and click on the properties
Select the internet protocol version 4
After that change the IP address and the subnet mask to the same value as in our drive and click ok
So now the drive can communicate with the computer
After that open the RSlogix and select the communication or comms and select who active go online and from there we can select the IP address of our drive and click OK now the drive is online.
How to download a program to a Micrologix 1400 PLC using a memory chip
At first we need to remove the port cover on the left side of the PLC after that the memory chip can be inserted.
Click ESC to go to the menu and select the mode switch by using the down arrow
After that select the program and click OK
After that go back to the menu by using the ESC button
Select the advanced settings and press OK
After that select the comms EEprom and press OK
Then select load from MM and press OK
After that power off the device and remove the chip and replace the programming port cover