Control valves are essential in many process industries. They are intended to regulate the flow of fluids in a system. They are intended to initiate and stop the process as well as throttle the fluid flow to ensure efficient operation. Because of their increasing application in process industries, these valves are now widely available in a variety of specifications. This wide assortment may be perplexing to individuals making their first purchase. When making a decision, various aspects must be addressed.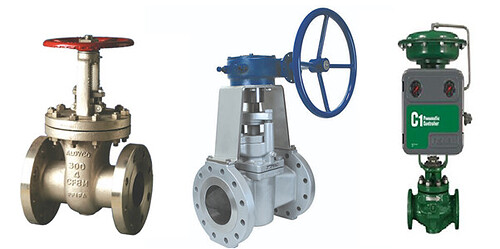 Why Control Valves Used?
Process plants are made up of a number of control loops that are linked together to create a product that is ready for sale. Each control loop is intended to keep some significant process variable, such as temperature, pressure, level, and flow, within a desired operating range in order to ensure that the end product's quality is not compromised. Internally, each loop receives and generates disturbances that have a negative impact on the process variable. Furthermore, interaction with other loops in the network causes disturbances that affect the process variable.
Transmitters and sensors collect data about the process variable and its connection to the desired set point to mitigate the effects of these disturbances. A controller processes this data to determine what has to be done to return the process variable to its original location.
What are the different types of control valves?
The following are some of the most common types of control valves used in the industry
Gate Valves
Ball Valves
Butterfly Valves
Globe Valves
Needle Valves
Check Valves
What is Valve and what are the major types of Valves?
What factors need to be considered while selecting control valves?
Here we are trying to explain what are the factors user should consider while selecting a control valve for their industry.
Purpose of the valve
What is the temperature and pressure of the media going through the valve?
Media going through the valve
Environmental condition
Process condition
Compatibility and Rugged condition
Valve dimensions.
Which types of valves are used in the food industry?
Which valves are used to control gas flow?
Purpose of the valve
Valves can be used for a range of tasks and accomplish a variety of functions. When selecting any valve for industrial usage, the best place to start is by determining what purpose it will serve. Consider the following points:
Is it going to be used to control or isolate media?
Will it be utilised several times each minute or only once every few months for maintenance?
How important is it to your process, and what happens if it fails?
Is it a valve that must function in an emergency?
What is the temperature and pressure of the media going through the valve?
Temperature is also a prerequisite for selecting Valves. Valves that are subjected to severe temperatures are frequently 'bespoke' rather than 'off the shelf.' The two primary factors to examine when it comes to temperature are (a) whether the materials of construction are appropriate and (b) whether the valve will seal against the temperature. Your supplier may advise you on the best body material and sealing design for your needs. The usage of pressure/temperature charts, which demonstrate how the temperature limitation of a valve decreases as the pressure rises, is a suitable reference point here. These are available for the majority of valve types.
When determining which valve is best for your application, you should always consider the pressure. Specialist valves will be the norm in high-pressure applications, and these valves will normally have substantial wall diameters to withstand the pressure. They also have specialised sealing systems, similar to Trunnion Mount Ball Valves. A valve may not be the ideal solution for low pressure applications where bubble tight shut off is not required. A excellent example of this is in low pressure air/exhaust applications, where a 'damper' would be less expensive and less in weight.
Media going through the valve
What kind of fluid will be moved in your processing plant? Natural gas, compressed air, steam, liquefied petroleum, gasoline, hydraulic fluid, slurry, and water are all examples of media that can be controlled by control valves. As a result, it must be assured that the valve works flawlessly for all of these fluids.
Environmental condition
Not all valves will be installed indoors in an ambient, dry, and dust-free environment. Consider where your valve will be installed. Is it at the end of a jetty in a salty environment? For the majority of the day, you're in the middle of a dry, sandy desert in high heat? Are you submerged under water? It's not the end of the world if the valve location is inconvenient. It simply implies that the materials, particularly the outside coatings and interior seals, must be suited for the environment.
Process condition
The improper type of valve could be chosen if the process conditions are not known or shared. For example, a customer may order a globe valve without disclosing the details of their process. Unbeknownst to our engineers, the customer's application requires a high capacity of flow, which would be better served by a butterfly or ball valve. Problems with the capacity of the globe valve may occur in the future. This is why understanding the process conditions is crucial. Only when all of the process conditions are known can a valve be assured!
Compatibility and Rugged condition
Compatibility: Many processes require remote control and monitoring due to the criticality of the process environment. It is critical to ensure that the valve selected is compatible with remote process management systems.
Rugged Construction: Because most industrial operations are carried out in ambient, harsh conditions, the chosen valve may fail to serve the goal if it is unable to meet these different criteria. You must determine whether the valve can tolerate extremes and minimums, as well as upset situations, and whether it can operate virtually.
Valve dimensions.
When valves arrive on site for installation, the fitters discover that there is insufficient space. The handwheel collides with neighbouring pipes, the valve actuator collides with a tank, or the lever collides with some steelwork. The majority of valves have a dimensions datasheet, so always obtain a copy and double-check that the valve will fit into the space you have available.