##What is valve link software?
A Field valve link software is useful for a technician to monitor the valve operation status and performance online to improve reliability by spotting problems before they affect your process. This software is used for configuration, calibration, and diagnostics of FIELDVUE instrumentation.
##Procedure to license the software:
Install the valve link software > open the valve link license wizard

Go to All program > Select valve link > From the scroll down double click the valve link license wizard
Now opens the license window
In the opening window, you see the status as Not licensed. So that we have to license the software.
Click the New license button
In the new window appears there is a couple of options, click the Generate license using software licencing option > then click Next
The next window is a form, fill up your details. and click Next.
You can now choose between print the registration form or to save the form to a file.Save the file to a location in the system folder of valve link and click next.
Now you got your registration file, now email it to the address [email protected] and later they send you the free license.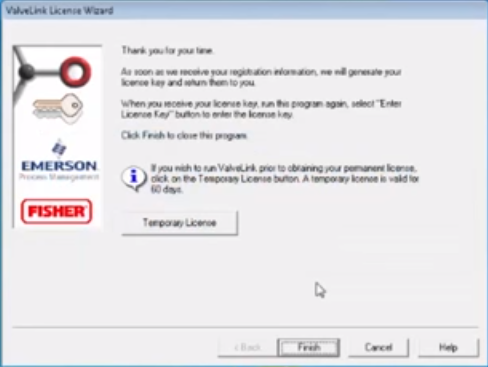 Next window appears to get the license now click the Temporary license which gives you a free 50 days license with full option.
Click Next and finish for the next coming windows.
When you get the License open the valve link wizard once again >>.
Now this time click the Enter the license key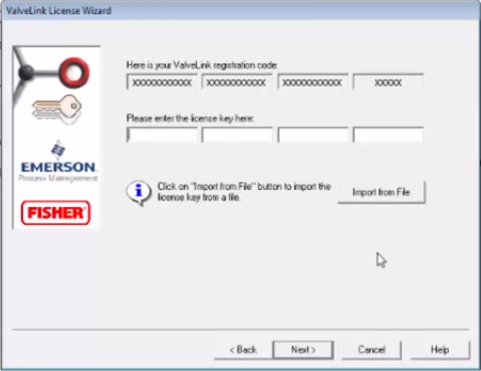 Now click the Import from file and browse the registration file saved in your system. The file should be saved in the program file valve link wizard folder.
Click Next and agree to the terms shows in the coming windows at the end click finish. The licensing process is completed.
If you got the orginal license, to install the orginal one go back to the valve link wizard and change the license file.
##Setup procedure:
Open the valve link software:
Give the username and password to the software.
Before using the software customize the software, Go to customize valve link >> Security Groups.
It is important set up a new security group instead of default group to get the full access to the of the software. The group can be created from the next windows. Then login back to the software with the new group.