We have to know how to install a AC 800M. Before that, let's check the basic requirements for installation:
Minimum requirements :
OS Windows 2000 Professional or Windows XP Professional

Microsoft Word 2000 or 2002

Acrobat Reader version 4.0 or later.
Installation:
Now you can see there are two parts in a software delivered CD. A PLC Control Builder AC 800M and OPC Server for AC 800M. You have to run PLC control builder AC 800D before OPC installation. PLC Control Builder AC 800M contains PLC Control Builder, PLC firmware, Base software for SoftController, RNRP and User Documentation.
If you don't want to do additional settings on PLC Control Builder, just run both PLC Control Builder and OPC Server on the same PC. And always we should install PLC control Builder before OPC server installation, because OPC server need to read control builder settings, while it's installation.
PLC Control Builder Installation :
Few seconds after the CD inserted. You will have installation welcome window.

//Click Install software to start intallation procedure.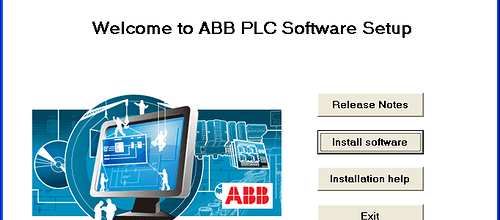 fig:1
There is a Release Notes button to give latest information and a Installation help button to know about installation procedure.
In the next window appear there will be installation buttons for PLC Control Builder and OPC Server for AC 800M. We have to install PLC Control Builder first.
// click PLC Control Builder button.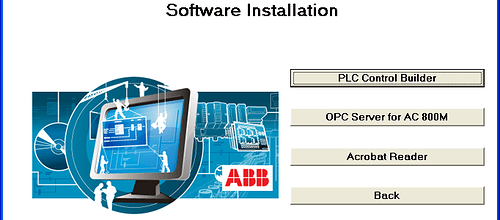 fig:2

Now simply follow the instructions appear on the screen. Don't use cancel button on additional dialoges, which may interrupt the installation.
OPC Server installation:
After responding to the wizard dialogs of Control builder installation.
// click on the OPC Server for AC 800M button shown in fig 2
And respond to the on-screen additional dialogs. Again don't click cancel button on additional dialogs.