In this article, we will discuss how to configure a connection between Siemens PLC S7-1500 to SCADA system by using OPC-UA.
What is OPC and Why is it necessary?
OPC stands for Object Linking and Embedding, shortly called as OLE, Process Control.
OPC is the most widely used data connectivity protocol all over the automation industry, which was developed by OPC Foundation, for communicating between controllers, devices, applications, and other server-based systems without the need for custom drivers.
There are so many communication protocols are available in the automation industry and every vendor in the automation field has developed unique and special protocols for themselves like PROFIBUS & PROFINET protocol for SIEMENS products, Ethernet/IP protocol for Allen Bradley PLCs.
Also read: What is the difference between SCADA AND HMI?
There are so many various automation systems or processes consists of different controllers and devices from different suppliers and vendors with different protocols in factory. These devices and controllers are need to communicate with management systems. As a result, OPC creates a framework to access real-time plant data from different vendors or manufacturers.
How to set the connection between PLC and SCADA?
Step 1: Launch OPC UA Server and Open new project with TIA Portal and select your PLC
Note: Check that your device has a firmware version greater than 2.0 that includes the OPC UA.
Step 2: Activate the OPC UA server from device properties because by default it is deactivated, and copy and save the server address as we will need it later.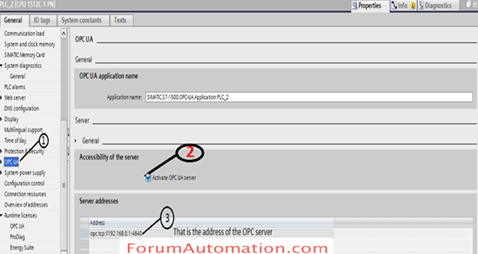 Step 3: You can select the server license that you have installed on your PC. ( Check image)
Step 4: You can save your project and download it by using PLCSIM Advanced.
Note: If you want to simulate an OPC server on your PC, you must use PLCSIM-Advanced, as PLCSIM will not assist you.
Step 5: Go to Indusoft SCADA software to launch an OPC client from the software. We'll add a new OPC-UA connection here.
Step 6: You have to copy your server TCP/IP address as shown from TIA
Step 7: You can paste the server address in the SCADA system and check the connection is correct or not and add a new page to connect some tags with OPC nodes.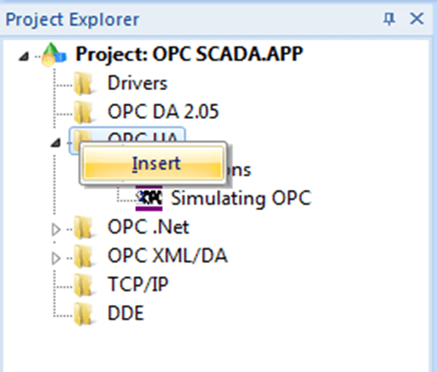 Step 8: You can select the OPC connection and write your system tags after creating this page.
Step 9: You can browse for your PLC nodes (tags) here to attach and connect them to the SCADA tags.