WHAT IS AN INSTRUMENT?
An instrument is a device that is used to measure and control physical and chemical properties of materials. An instrument converts the parameter that we need to measure into a readable format.
FUNCTIONAL ELEMENTS OF AN INSTRUMENT
All instruments contain various parts that perform prescribed functions in converting variable quantity or condition into a corresponding indication. Thus, the operations of an instrument can be described in terms of functional elements (various parts) of instrument systems. The functional elements of an instrument are indicated by various blocks.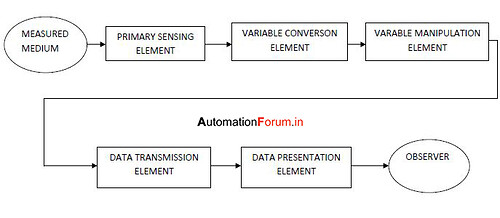 PRIMARY SENSING ELEMENT
Primary sensing element of an instrument is that which first receives energy from measured medium and produces an output depending on the value of the measured quantity.
VARIABLE CONVERSION ELEMENT
A Variable conversion element converts the output of the Primary sensing element into a more suitable form or condition useful to the function of the instrument. Every instrument need not require a variable conversion element, while some require several.
VARIABLE MANIPULATION ELEMENT
The signal of the output from the Variable conversion element may not be enough for the next stage. So Variable manipulation element manipulates the signal to desired level.The Variable conversion element and the Variable manipulation element are together called as Data conditioning element
DATA TRANSMISSION ELEMENT
Data transmission transmits data from one element to another. It may be as simple as shaft and bearing assembly or as complicated as a telemetry system for transmitting signal from one place to another.
DATA PRESENTATION ELEMENT
Data presentation element performs the translation function, such as simple indication of pointer moving over a scale or the recording of a pen moving over a chart.