DataGator is an open channel flowmeter, which is used to measure flow through large pipelines and open channels. Flow through such flow channel can be in different schemes, subcritical flow, supercritical flow, and surcharge.
This patented device, called a DataGator flowmeter, can be used to monitor flow in manholes.
Construction of DataGator:
DataGator Flowmeter is a combination of venturi flume and venturi tube which could be used to measure the flow through the tube in any flow regime.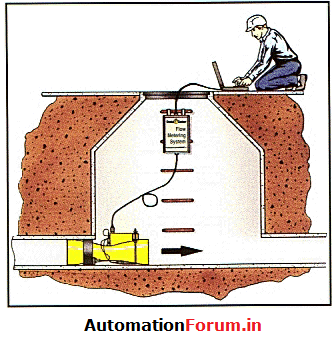 By symmetricalizing the flow tube, it was shown that flow in either direction can be measured with the same accuracy.
Using three distinct pressure readings within the pre-calibrated flow tube, flow measurement is derived from proven hydraulic theories. The DataGator removes errors introduced by level and velocity conversions and average velocity calculations by translating pressure directly into flow.
The DataGator's flow tube, available in sizes to fit 8", 10", 12" or 15" sewer pipe, is securely sealed to the pipe wall using an inflatable ring assembly.
Working of DataGator:
The DataGator works in four categories of flow. It works as a standard flume for free flow. Using its proprietary flume design, it operates in submerged flow.
It works as a calibrated venturi tube in full pipe flow at transition (from submerged to pressurized). And the venturi measurement continues when the pipe is full and the measurement is fully bidirectional.
Applications of DataGator:
Inflow and Infiltration Studies

Industrial monitoring

Flow measuring in manhole
Advantages of Datagator:
Traceable to the U.S. National Institute of Standards and Testing (NIST)

No minimum level or flow requirement

Factory pre-calibrated

Real time data monitoring

Eliminates Doppler and Magnetic sensors

Independent of velocity profiles