UNITS OF PRESSURE
Common units of pressure are Pascal (N/m2), Bar, Kgf/cm2, PSI (lbf/in2), Torr (mmHg) and mmH2O. Pressure less than 1 PSI are normally considered as low pressure and low pressure are usually calibrated in inches of water (1PSI = 27.7 inH2O).
CONVERTING PRESSURE MEASUREMENT UNITS
Pressure measurement may be converted from one unit to another by using chart below.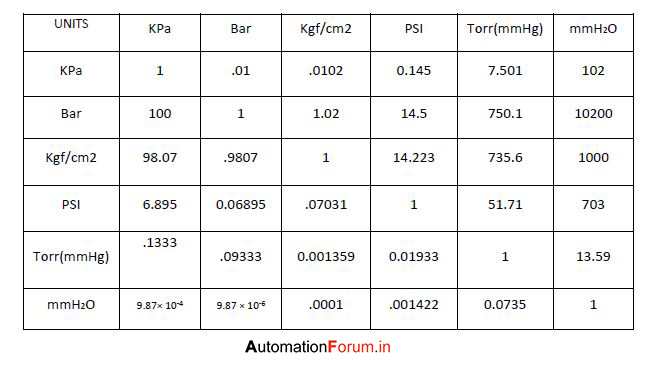 InstaConvert
Check Android app developed by AutomationForum - A unit conversion tool made for Instrumentation, Automation professionals. click install button.

You may download it for FREE from here: https://play.google.com/store/apps/details?id=com.infohe.simplyconvert&hl=en
more details : Instrumentation Converter - by Automationforum.in