The four most common temperature transducers are thermocouples, resistance-temperature detector's (RTD's), thermistors, and integrated circuit sensors.
Here we are discussing about advantages and disadvantages of each devices
Thermocouple:
A thermocouple is an active transducer which directly converts thermal energy into electrical energy. It is a simple device made by joining to dissimilar metals or semiconductor forming a junction. It produces a voltage when the temperature at the junction changes. Have a temperature range in different types -300 to 3200°F
Chara & symbol:
Advantages:
Self-powered
Simple
Rugged
Inexpensive
Wide variety of physical forms
Wide temperature range
Disadvantages:
Non-linear
Low voltage
Reference required
Least stable
Least sensitive
Complicated conversion from emf to temperature
RTD:
RTD (Resistance Temperature Detectors) uses metals that change their resistance when exposed to temperature, which has a positive temperature coefficient. For PT100 RTD it has a temperature range from -400 to 1200F.
Chara & symbol: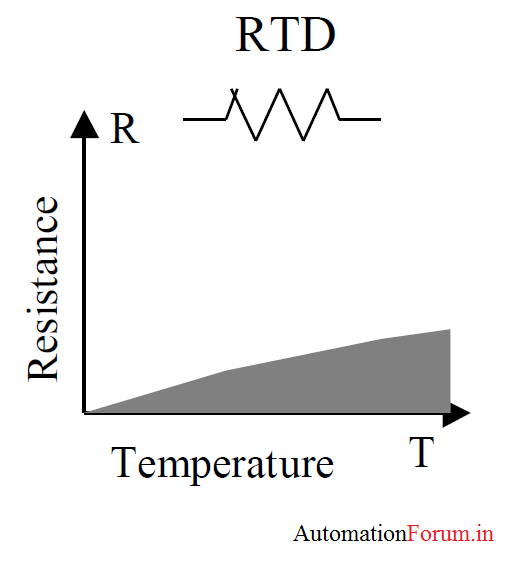 Advantages:
Most stable
Most accurate
More linear than thermocouple.
Interchangeability over wide range
Works in wide temperature ranges
Disadvantages:
Bulky in size and fragile
Expensive
Slow
Current source required
Small resistance change
Four-wire measurement
Self-heating problems
Thermistor:
Thermistors are semiconductor devices which have a negative temperature coefficient, this means that the resistance decreases with an increase in temperature.
Thermistors are available that perform temperature measurement from -73 to 316°C (-100 to 600°F). It should be noted that many have limited ranges and cannot be used above 120°C (250°F).
Chara & symbol:
Advantages:
High output
Fast
Two-wire ohmic measurement
Very high sensitivity (Select range)
Inexpensive
No cold junction compensation
Disadvantages:
Not easily interchangeable
Limited temperature range
Fragile
Current source required
Self-heating
Narrow span
Unstable due to drift and decalibration (especially at high temperatures)
I.C sensor:
They are semiconductor devices. These are available in both voltage and current-output configurations, Some integrated sensors even represent temperature in a digital output format that can be read directly by a microprocessor.
Chara & symbol:
Advantages:
Most linear
Highest output
Inexpensive
Disadvantages:
T < 250°C
Power supply required
Self-heating
Limited configurations