Allen Bradley is a factory automation equipment product manufacturer since 1903. It was founded by Dr. Stanton Alley and Lynde Bradley in Wisconsin, USA with an investment of $1000.In February 1985, Rockwell International purchased Allen Bradley for $1.65 Billion.
Here, I will give you the idea about various types of Allen Bradley PLC used in various fields. There are mainly three types of PLCs based on their capabilities. They are
MicroLogix

CompactLogix
These models are differentiated by their module limitation, software, memory and software protocol.
MicroLogix
This type PLC mainly used in small scale industries. In this type PLCs, we used rslogix500 for programming purposes. Input and output cards can connect by using a ribbon cable. We don't need physical rack is required for connecting I/O devices. It supports RS232/485 communication port and it has an ethernet port. It has also an LCD display.
The mainly used MicroLogix PLCs are
1)MicroLogix 1100
2)MicroLogix 1200.
3)MicroLogix 1400
a) MicroLogix 1100:
Features:
It has 10/100 MBps Ethernet port of peer-peer communication.
It supports RS232/RS 485 combination port for both serial and network communication.
MicroLogix 1000 provides 8KB memory. Out of 8KB memory, 4KB for user program and
another 4KB for user data.
This PLC allows you to access, monitor and program from anywhere through Ethernet connection.
By using the inbuilt LCD display, we can monitor and modify controller data.
MicroLogix 1000 supports up to 144 digital input -output point.
It also compatible with 1762 MicroLogix expansion input -output modules up to 4 modules per controller.
b) MicroLogix 1200
Features:
In MicroLogix 1200 compatible with RS232/RS485 combo port for serial as well as network communications.
It has in built 20KHz high-speed counter. It provides floating point data files and it also supports data security for programs.
The main specialty of MicroLogix 1200 controllers are it provides additional programming HMI port for connecting to a DF1 full duplex device. It's only on 1200R controllers.
This PLC comes with 1762 MicroLogix Input-output modules, which supports 6 modules per controller.
This PLC includes two built in potentiometer with output range 0 to 250. We can expand up to 136 I/O points.
c) MicroLogix 1400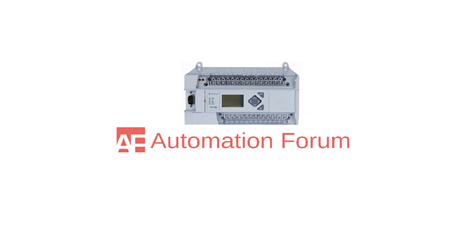 Features:
In this PLC, Ethernet port which provides Web server and email capabilities and also supports DNP3 protocol.
It has LCD display with backlight which allow you to view status of controller and Input- output.
It has two serial ports with DF1, DH-485 Modbus RTU, DNP3 and ASCII protocol.
This PLC supports up to 128KB for data logging and 64KB for recipe.
CompactLogix
CompactLogix PLCs are used to control medium control system. This PLC is used to control machine and packing facilities. It has an inbuilt I/O system. In this PLCs, we can add additional inputs and outputs by using an expansion mode, however there is limit for adding expansion module. We need Rslogix 5000 software is required for programming purposes. It supports the communication protocols like Ethernet, ControlNet, RS-232, DH-485 and Modules. This controller supports 30 input-output modules and 16 motion axes. Unlike, MicroLogix it has no LCD display.
a) CompactLogix 5480 controllers
Features:
It provides a Logix based real time controller.
It supports in Studio 500 Logix designer version 32.
This control system enables high speed I/O, Device level ring/Linear topologies and motion control.
This system includes three GbE Ethernet input port which enable high-speed communication, input-output and motion control.
It has one dedicated GbE Ethernet port for commercial OS network interface.
It supports up to 31 compact I/O modules. It has an integrated display port for high definition industrial monitor connectivity.
This system includes two USB 3.0 ports for expanded data storage capacity and OS peripheral
b) CompactLogix and Compact GuardLogix 5380 controllers
i) CompactLogix 5380 Controller
Features:
This controller is for small to large applications that require low axis motion and I/O counts.
It offers one gigabit (GB) embedded Ethernet input-output port that enables CIP safety connections, I/O and safety devices.
It has Dual configurable ports which support Dual-IP address.
It also supports up to 31 local compact 5000 I/O modules.
It offers very wide range of memory options from 0.6 to 10 MB.
It has wide variety of security features like encrypted firmware, controller-based change detection, logging etc.
ii) Compact GuardLogix 5380 controller
Features:
This controller offers memory options from 0.6 to 10MB along with safety memory options from 0.3 to 5MB.
It has also 1gigabit (Gb) embedded ethernet port.
It supports communication options for up to 180 Ethernet/Input-output ports.
It provides integrated safety functions with drives and motions
c) CompactLogix 5370 Controllers
Features:
This controller is ideal for small and mid-size applications that requires only very low axis and I/O counts.
This controller offers Integrated motion over Ethernet connection for maximum stability
It supports Device Level Ring (DLR) network technologies to help increase network resiliency.
It comes with 2-GB digital card (SD) to save program quickly and restore the saved data.
For simple articulated robotics, it supports up to 2 axes kinematics.
It supports Modbus TCP as well as devices like printers, barcode readers and servers.
d) CompactLogix L3x
Features:
This is the discontinued controller and no longer available in market. However, I'd like some give some idea about this controller.
It has inbuilt RS-232 Serial port on every 1769-L3x controller.
It has inbuilt communication port for Ethernet/IP and ControlNet Networks.
It allows you to control distribute I/O via Ethernet/IP, ControlNet or Device Net. It also offers flexible memory options.
ControlLogix
This PLC mainly used to control large control system. ControlLogix is also called as modular PLC and it uses separate input-output modules. This model is mainly used in processing, batching and in motion control system. In this PLC, Rslogix 5000 software is used for programming. Rack based I/O modules are used in ControlLogix. It supports communication protocols like Ethernet/IP, ControlNet, DeviceNet, DH+. It supports 32 points per module for digital input-outputs. It doesn't have inbuilt LCD display.
a) ControlLogix 5580
Features:
When using 5580 It gains up to 45% capacity.
It comes with 1gigabit (Gb) embedded ethernet port that helps to enable high speed communications as well as I/O and motion control.
It includes controller-based change detection and logging, controller firmware with digitally signed.
In this controller, for extra security we use role-based access system.
It has a 1756 slim power supply options for series B and C standard.
It has wide variety based on memory options from 3MB to 40MB.
b) ControlLogix 5570
Features:
Its performance is 2x compared to 5580 controllers.
It has no Ethernet port. It supports full controller redundancy and removal Insertion Under Power Unit, shortly called as RIUP.
It also comes with a digital card or SD card. Like 5580, 5570 also 128,000 digital and 4000 I/O points.
This controller can be used in extreme environments from -25 °C to 70 °C