Hello guys, nice to meet you here, we want to introduce ourselves here because as a young robot team, we want more people to know us, give us more valuable advice, as a return we will introduce our best and latest product to your guys, to help you with your projects, help you achieve industrial automation
Our latest 4-axis robot arm: Z-Arm
A multi-purposes 4-axis robot arm, can do laser cutting, 3D printing, pick and place and a lot of things with Industrial standard, low price, and unique appearance ensures Z-Arm can work in a extremely small cell, safety stop function enables Z-Arm can safely work side-by-side with people, hand-teaching function makes Z-Arm easier to operate. And we believe the difference between a dreamer and a maker comes down to the tools, so we provider many tool heads for you to select, you can find all them below, and if you have any good idea about tool head, please let me know.
Available Tool Heads: 3D Printing kit Electric Drilling Head Vacuum Suction Cup Electric Screwdriver(include power supply) Electro-magnetic Chuck Laser Cutter Soldering with Solder Dispenser Solderpaste/Glue The 4th AXIS Electric Gripper Screw Dispenser Visual Kit
For more info or any advice, please send an email to: [email protected]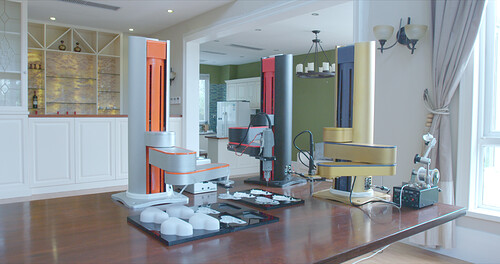 Thank you and have a good day!